The Top 10 Loudest 12″ Guitar Speakers
Are you looking to give your guitar amplifier way more volume? This is a list of the top 10 loudest 12″ guitar speakers.  The way I have determined this list is by checking the specifications across many brands and models. If you are new to replacing speakers check out my speaker resource guide.  It will cover everything you need to know about choosing the correct speaker.
About this Guitar Speaker List
The way I have sorted this list is by speaker efficiency.  The higher the dB rating is, the louder the guitar speaker will be. The majority of this list is Eminence speakers. The reason why there are no Celestion speakers on this list is they do not make a speaker over 100 dB.  This means they are omitted from this top 10 list of loudest 12″ guitar speakers.
I have spent hours looking at speaker specifications to provide you this list.  Brands checked were WGS, Celestion, Eminence, Tone Tubby, EV (Electro-Voice, and Lorantz.  Sadly, Tone Tubby only provides a handful of speaker specifications which is disappointing.
1. Eminence Wizard – 102.8 dB
The Eminence Wizard is one loud mofo! This is the loudest guitar speaker Eminence actually makes.  How does it sound? It's en "English-Voiced" speaker and part of their Red Coat Range.  To my Ear, the Wizard sounds like a mix between the Texas Heat and Swamp Thang.
The Wizard has some of the sweetest tones ever on the low end, but it's also got the top end intact. If you want to make your amplifier as loud as possible then this is the choice.  The Eminence Wizard would also make a great choice for someone looking to add a little bit of treble to their sound.  The top end is very clear while the low end has lots of thickness without getting too bassy.  This would be one of the best speakers if the volume is critical.
The Wizard would work well in amplifiers such as the Blues Junior, Hot Rod Deluxe, Peavey Studio Pro 112, the Marshall Valvestate amplifiers, and also many others.
Eminence Wizard is rated at 102.8 dB making it the loudest speaker Eminence makes.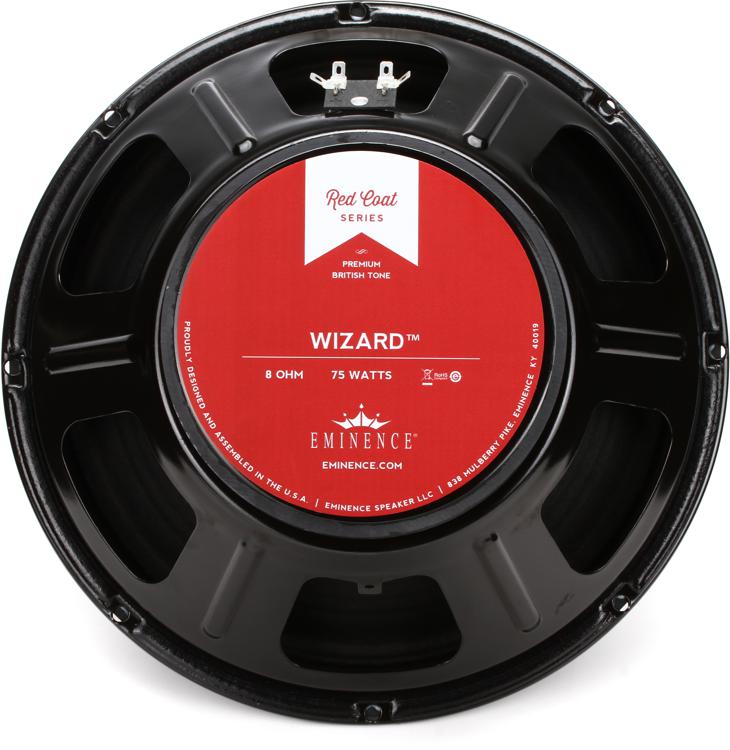 2. Eminence The Governor – 102.3 dB
The Governer speaker from Eminence is seriously loud.  Coming in at the #2 spot this speaker packs a serious punch! Some of the characteristics of the Eminence Governer is it has a very tight and punchy low end.  This means the low-end response is more focused on the lower mids than that super low-end sound.
While the Eminence Governer speaker is very efficient/loud it also breaks up early.  If you like a little bit of speaker distortion in your speakers' character this is a really great choice.
While this is part of the Red Coat series its tonal character will suit those looking for a great speaker without the excessive treble or bass frequencies. This really is a great punchy speaker that will suit anything from blues to rock.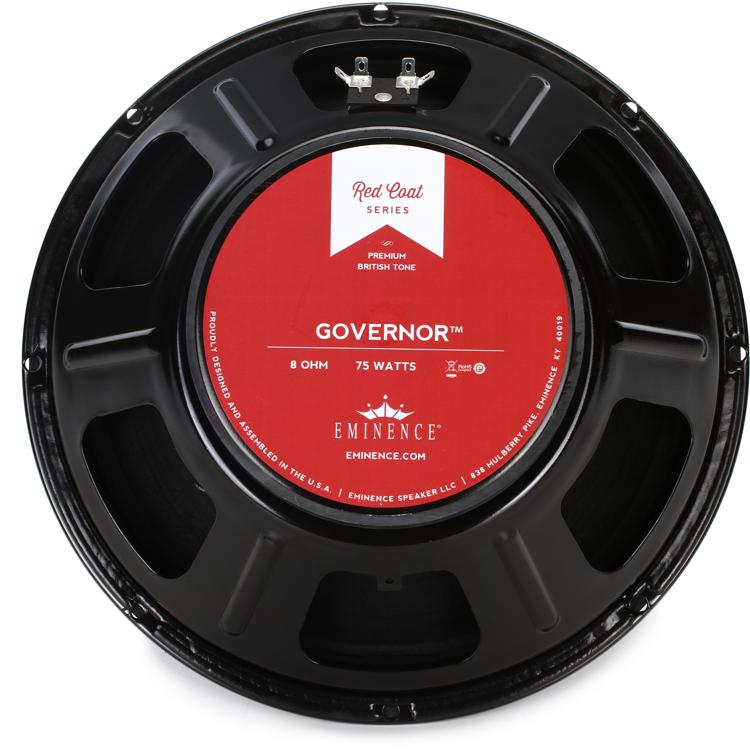 3. Eminence Hempdog 12″ – 102.3 dB
Coming in at third (but actually an equal second) is the Eminence Hempdog.  The Eminence Hempdog was produced for guitarist Pete Anderson who the best of both worlds from his favorite two Eminence guitar speakers. The HempDog 12 borrows the warmth from the Cannabis Rex and the neutral, clean tone from the Legend EM12.
This is a very pleasant and very 'safe' speaker for someone wanting to keep their amplifier character intact. The Hempdog will suit Fender and Marshall tones alike and will be also a decent speaker for taming the top-end chime of a VOX.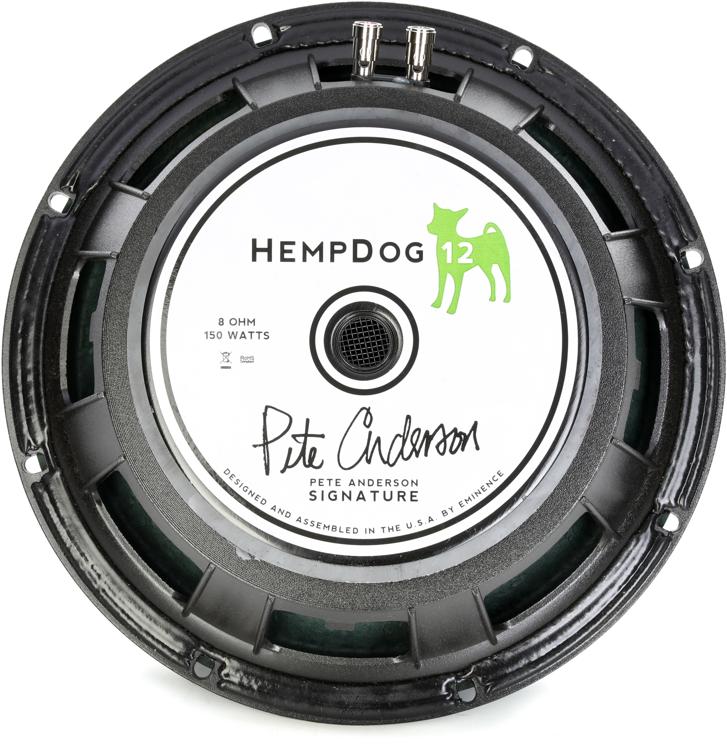 4. Eminence Swamp Thang  – 102 dB
Rating: 150 Watts 8/16 ohm – Buy it on Sweetwater
The Eminence Swamp Thang is one of my all-time favorite speakers.  Part of the Eminence Patriot series this speaker is an all-time classic.  Not only is it very efficient (loud) it's a superior upgrade to any amplifier. I can highly suggest this for amplifiers like the Peavey Studio Pro 112, Bandit, Tech 21 Trademark 60, and any Fender amplifier.
One of the characteristics of the Eminence Swamp Thang is it will keep your top end nice and clear/bright.  If you want to keep the chime of your amp and make the amp much louder this is the speaker you want. With guitar amplifiers that are way too bright already this might not be the best choice. The Swamp Thang is also a solid choice for musicians who play 7 string guitar who want more low end in their sound.
The Eminence Swamp Thang is rated at 102 dB making it one of the loudest speakers out there.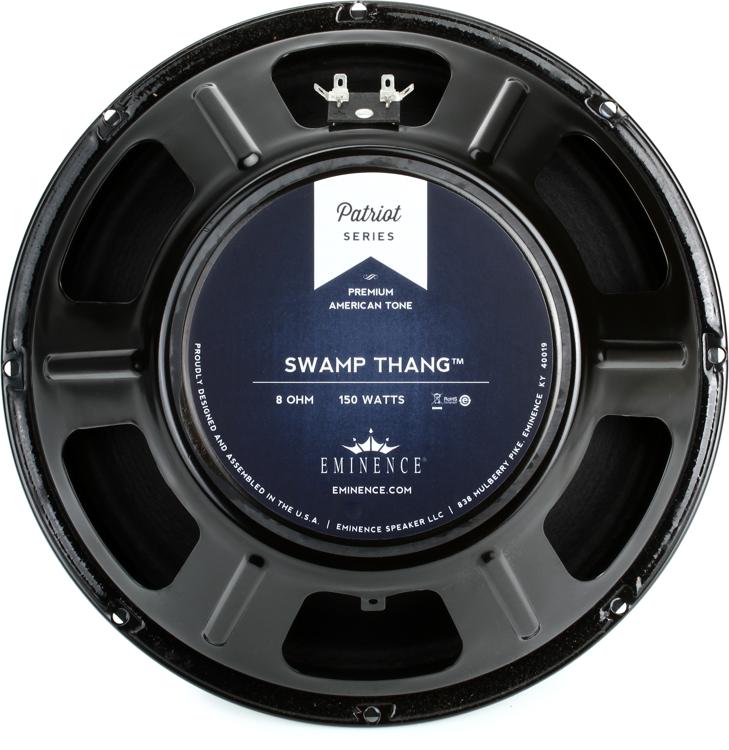 5. Eminence Cannabis Rex – 101.8 dB
The Cannabis Rex will make most amplifiers sound amazing. This speaker is one of the best upgrades for a Fender Blues Junior or Super-Sonic 22.  While the Eminence Cannabis Rex is rated at 50 watts it pushes out 101.8 dB! This makes it one of the loudest 12″ guitar speakers in the world!
There's a lot to like about the Cannabis Rex.  It has a chunky low end and a smooth high end. For those wanting to cut the high frequencies a hair, this will do it without losing everything.  There's no ice-pick high end with the Cannabis Rex but there will be enough for most fans of smoother tones to appreciate.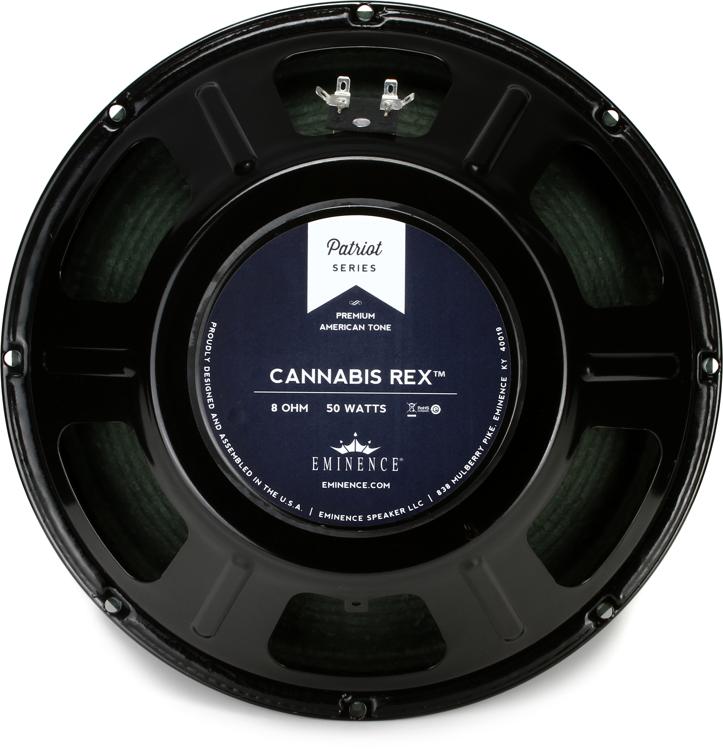 6. Eminence Man O War – 101.6 dB
The Eminence Man O War speaker is one of the hidden gems of the Eminence lineup.  Why? Because it's super-loud and sounds great.  The Man O War is part of the Red Coat series voiced for more of an English tone. If you like your guitar tone bright with a hint of upper-mids then the Man O War speaker is for you.
To my ear, the Eminence Man O War reminds me of the Eminence Tonker with a hair more chunk in the low end.  This speaker will suit many styles of guitarists and genres.  This speaker is a great option if having high volume is the name of the game!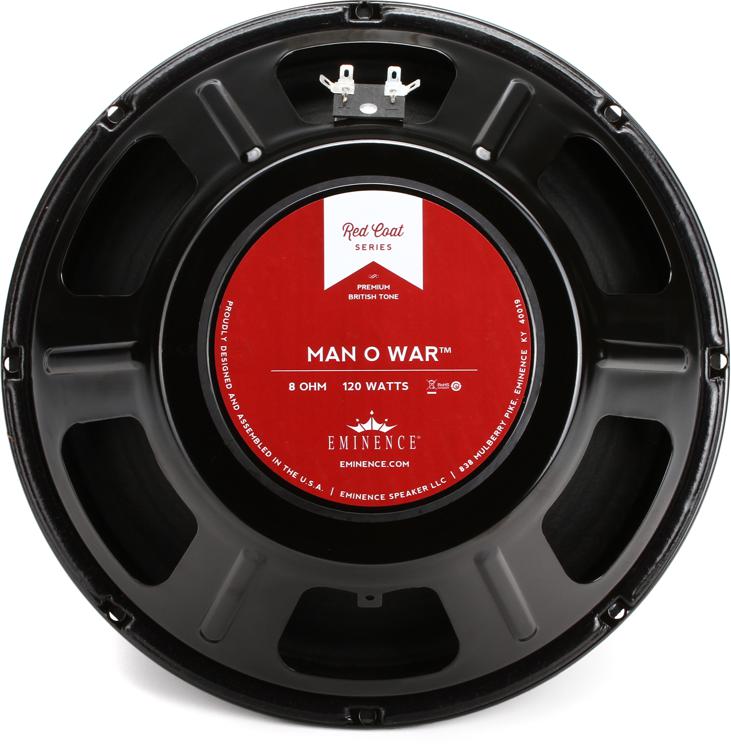 7. Eminence Tonker – 101.5 dB
The Tonker speaker from Eminence is physically massive.  With this size, comes volume, power, and more volume.  Eminence makes a lot of loudspeakers in their 12″ range that throw a lot of wind. The Eminence Tonker is an interesting speaker. The interesting thing about this speaker is that nothing jumps out at you as amazing.
The stand out feature of this speaker is the super-high headroom and low speaker cone distortion. What this means is your amplifier will stay cleaner at louder volumes.  The Tonker has a tighter low end than the Texas Heat or Wizard but allows all the high end to come through.
One thing I did notice while using the Tonker is it does have a bit of an upper-mids push which works well for cutting through the mix.  If you want something safe and loud, this would be a great choice.
A clear downside of the Eminence Tonker is weight.  This speaker is very heavy and the magnet is HUGE.  Make sure you have enough clearance for this speaker on your amplifier. I would recommend this for amplifiers with open back cabinets only.
The Eminence Tonker is rated at 101.5 dB making it a solid contender for loudest speaker ever!
8. Eminence Red White & Blues – 101 dB
The Red White & Blues is a speaker I need to be using more.  This speaker is very well suited in a Fender or Marshall amplifier.  The tonal characteristics are similar to the Texas Heat speaker but with a hair more high end.  The Red White & Blues also has a slightly tighter low end than the Texas Heat but it still has plenty.
At 101 dB, it's surely loud enough for any combo amplifier.  The power handling of the Eminence Red White & Blues is 120 watts which means it will work in almost any sub-120-watt amplifier.  This is a great speaker upgrade for a Marshall DSL40CR or Fender Hot Rod Deluxe. This would be a nice upgrade from the stock speaker in a Fender Blues Junior.
While 101 decibels is not the loudest on this list, it's still one of the loudest 12″ guitar speakers in the World.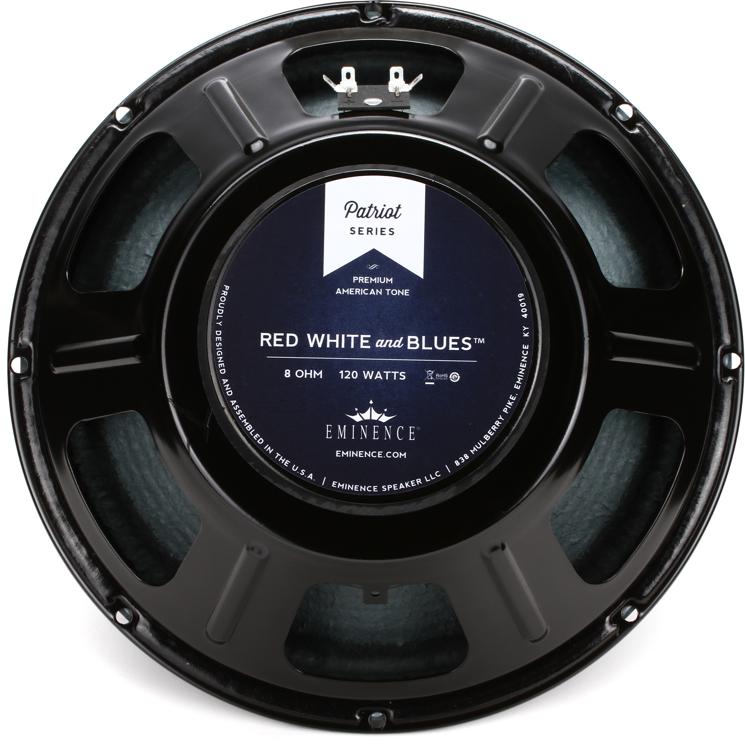 9. WGS Blackhawk Alnico – 100.08 dB
Finally, a brand that is not Eminence! WGS stands for Warehouse Guitar Speakers.  WGS is a very popular and affordable option for speakers made in the USA.  The WGS Blackhawk Alnico is the only WGS speaker to make this list of the loudest 12″ guitar speakers.
The WGS Blackhawk features an alnico magnet that preserves the high-end frequencies of your guitar sound.  This speaker has a tight mids sound and warm low-end reminiscent of the Celestion Gold.  If you are looking for a loud replacement speaker for a Celestion Gold alnico this is a great choice.
10. Tone Tubby Rose Leaf – 100.5
Tone Tubby speakers rock! I have had a chance to test and own many of them over the years.  The Tone Tubby Rose Leaf 12″ speaker is rated at 60 watts and is one loud puppy! I found listings of this rated at 100.5 dB as well as 101.0 dB so depending on where you read the specifications it could be higher up on this list.
This Tone Tubby speaker features a 68oz magnet for a tighter, punchier, and loud sound.  The Rose Leaf 12″ speaker is rated at 60 watts and is voiced towards the British scale in terms of tonality.
Tone Tubby is one of the only companies making their speaker cones out of Hemp.  These speakers are super-high quality and feature one of the coolest logos of all time.
Without question, this has to be one of the loudest 12″ guitar speakers.
Why You Would Want a Loud 12″ Guitar Speaker
The majority of problems with solid-state or digital modeling amplifiers are that they are loaded with very low-quality speakers.  These generic speakers are usually not very efficient.
Many solid-state amplifiers have speakers rated at 96dB.  A speaker rated at 102 dB, for example, is going to be up to three times louder effectively.  Every +3dB added the sound pressure level doubles.