The Best Replacement Speakers for a Boss Katana 100
This article will cover the best replacement speakers for a Boss Katana 100 guitar amplifier.  Whether you own an original Boss Katana 100 or the new Katana 100 MKII I have you covered.  Katana Artist owners will also find this list helpful for choosing a replacement speaker.  This list applies to only the 1×12 single speaker version of the amplifier.
Please Note: This list does not apply to the Katana 50 which uses a 4 ohm Speaker. 
The Boss Katana is a very popular amplifier.  Sales statistics show that it is the #1 selling solid-state amplifier in the World.  Some would call this a digital modeling amplifier instead of a solid-state amplifier.  Technically, both are correct.  This list of best speakers will take into account different styles of musicians and genre types.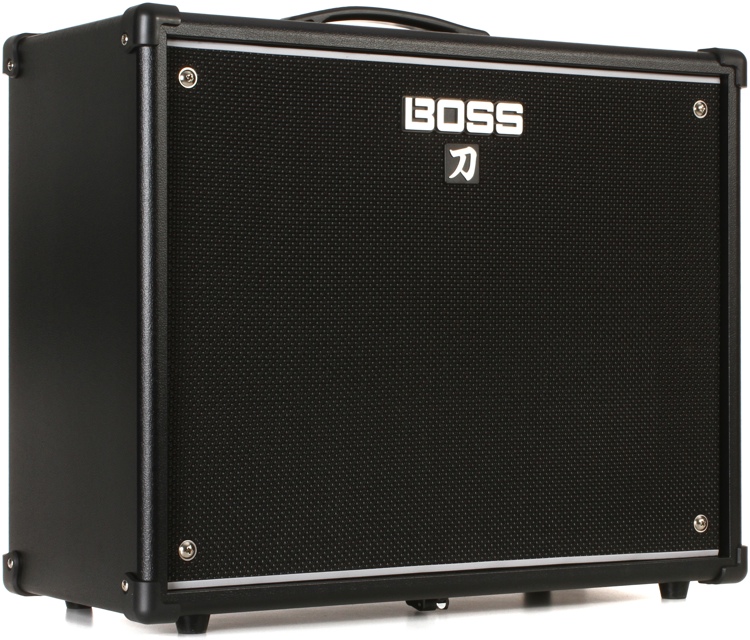 Before you Swap a Boss Katana Speaker
If you are new to swapping speakers and want more information please check out my detailed guide on how to choose the perfect guitar speaker.  I take all of these points into account anytime I recommend a speaker on my website.
The Boss Katana Stock Speaker
One of the things that set the Katana apart from a lot of inexpensive amplifiers is they do ship with a quality speaker.  This speaker though is not for everyone.  This list of the best replacement speakers for the Boss Katana will give you some options depending on your taste.  What I have found with the Katana MKII and MKI in a live situation is they lack a lot of low-end frequency oomph.
1. Eminence Texas Heat
The Eminence Texas Heat is the best replacement speaker for any solid-state or digital modeling amplifier.  The reason this speaker is the best is that it adds lower-end thickness to the tone.  One of the limitations of the Katana is how little low end you hear compared with Tube amps in the live mix.
The Eminence Texas Heat will add more than enough fatness to the tone while also taking out some of the ice-pick high-end that is very apparent at louder volumes. I have tried the Texas Heat in a number of digital and transistor amplifiers and it's my #1 choice for the best replacement speaker.
Another great reason why this is a perfect choice is the Texas Heat is rated at 150-watts RMS and 8 OHMS.  This will be the perfect choice for the 1×12 Boss Katana 100 guitar amplifier.
The Texas Heat speakers have an American voicing.  This is really well suited to Jazz, Blues, and Classic Rock.   It also handles the higher gain tones really well too.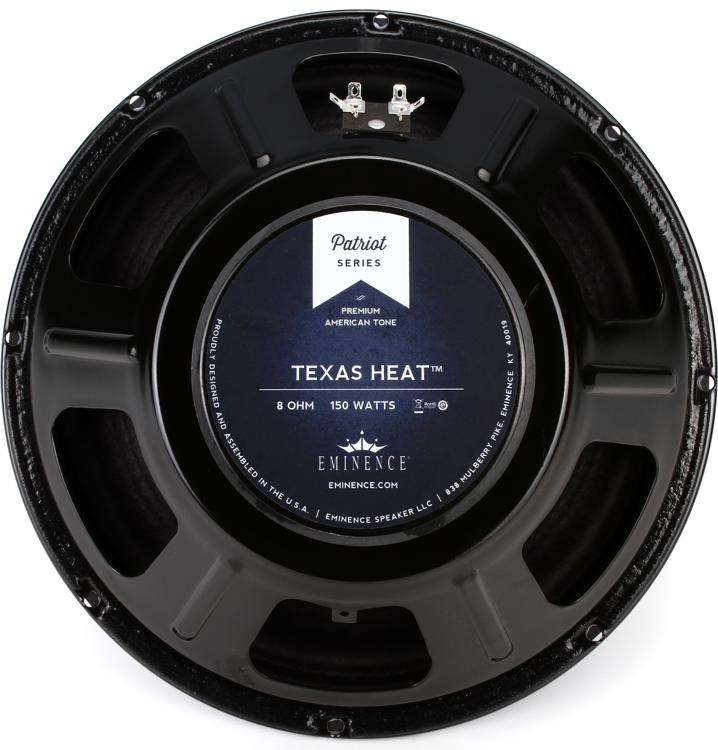 3. Eminence Legend Speaker
This will closely resemble the stock speaker in some ways but will sound warmer and rounder on the low end.  One of the benefits of the Eminence legend speaker is its high headroom.  This 200-watt speaker will work a treat for both clean dirty tones but really shines with a bit of gain added.  If you love to rock, check out the Eminence Legend.  This is seriously one underrated speaker that will make the tone of the amplifier shine without over-coloration.
Thanks to the fat/round low-end bass response, the Legend is a perfect choice for any solid-state amplifier.  Unlike the Texas Heat, the Legend will allow more high-end frequencies to be heard.  This is another benefit for higher gain players who don't like their treble getting lost in compression.
The Eminence Legend speaker has very low speaker distortion.  This allows the speaker to stay louder much longer, without coloring the sound with speaker distortion. If you want to get maximum clean headroom out of the Boss Katana then this speaker is a fantastic choice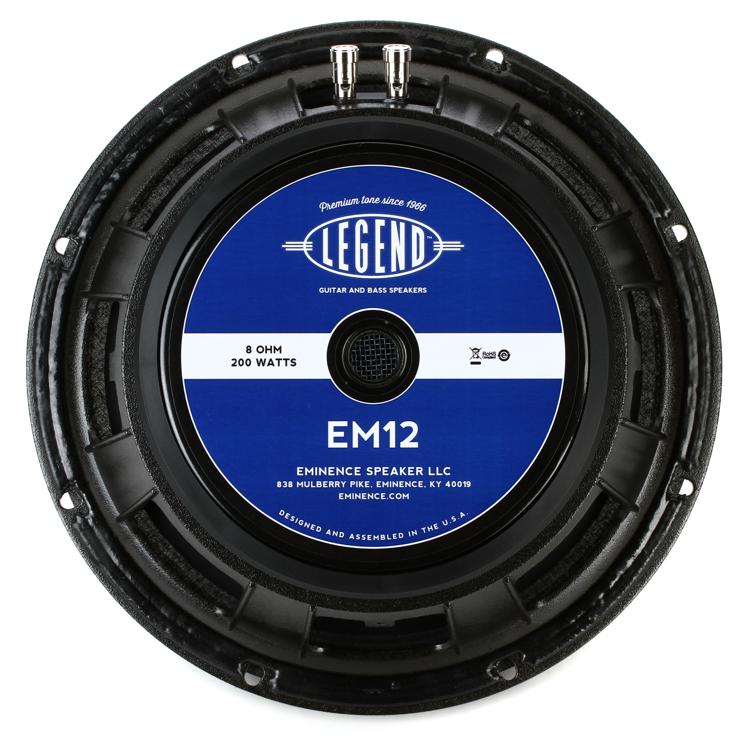 3. Eminence Man O War
This is for those that like to Rock! The Man O War Redcoat series guitar speaker will be the perfect choice for those that love that 'British' sound.  If you spend a lot of time on the distortion channels of the Katana this is a really great choice.
The Eminence Man O War is rated at 120-watts and will handle all you can throw at it. The Low-frequency bass response is big enough to give the Katana more low end.  Where this speaker shines is the mid-range.  It really has a 3D projection that will work great for higher gain players.   One thing to note is the high-frequency response is quite bright.
Being there's more treble on this speaker it's best for distortion and high gain guitar tones. it will help add clarity back into the sound, especially if you are using your amplifier for live performances.  Given, the Katana has plenty of high-frequency tones already, but this will help accentuate this.  If you want something that rolls out some high-end, choose the Texas Heat over this speaker.
The Man O War is one of the top 12 loudest guitar speakers in the World and will add a volume kick to any amplifier. This speaker's peak volume sensitivity is 101.6 dB.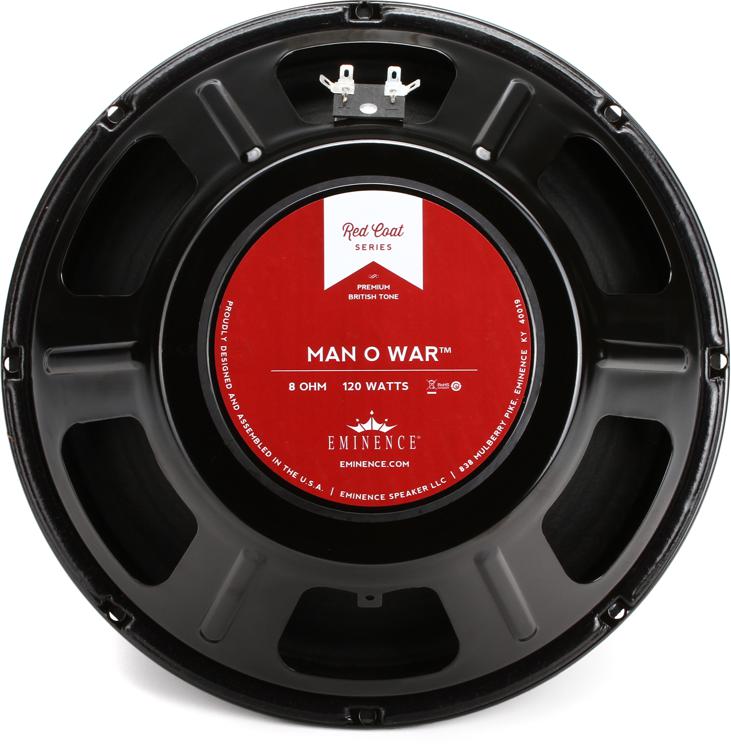 4. Eminence Swamp Thang
One of the great things about the Eminence Swamp thang is it is one of the loudest speakers ever! Rated at 102 dB this will add a kick of audible volume to your amplifier while still remaining very clean.  The Swamp Thang offers a lot of cool tones.  It technically has more low-end bass response than the Texas Heat but it's a different kind of low end.
If you use your Boss Katana 100 to Djent, then the Swamp thang is a great choice.  It's also a great choice for 7 string (or more) guitarists.  Few speakers on the market can replicate the low end of the Swamp Thang.
One of the really great things about the Swamp Thang is it has that 'Fender Clean' thing going on.  This allows it to work really well for clean players that love a little sparkle on the high end and a not-so-prominent midfrequency range.  This American sounding speaker has some of the least speaker distortions in the Eminence range. The Swamp Thang will handle up to 150-watts RMS no problems at all making it a great replacement speaker for the Boss Katana 100.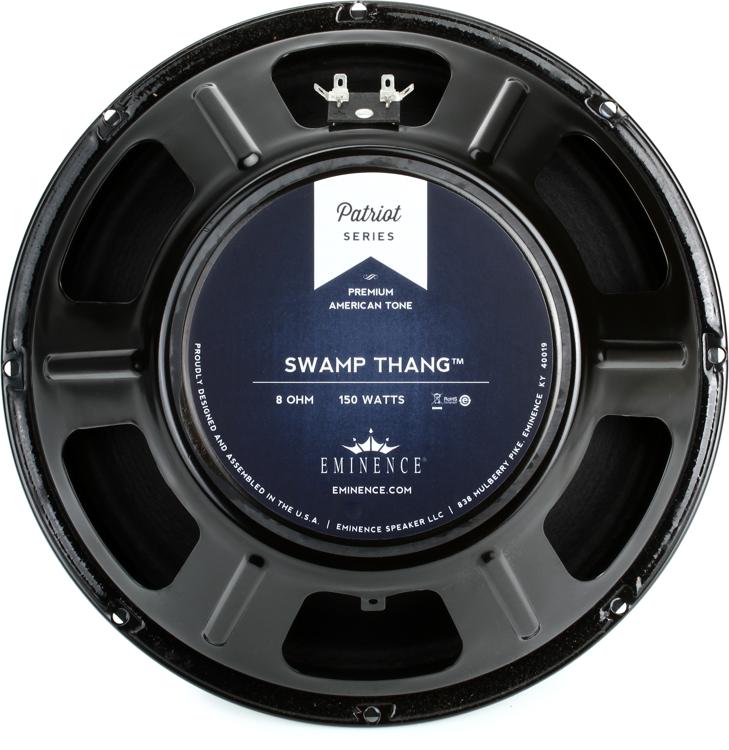 5. Celestion G12H-150 Redback
The Celestion Redback is one of the only Celestion speakers I can recommend for the Boss Katana 100. The majority of Celestion speakers fall well under 100 watts.  This behemoth weighs in at 150-watts RMS and 8 ohms.  For the Celestion fans wanting that British vibe in their Boss Katana this is a great choice.
One of the standout features of the Celestion G12H is the 2″ voice coil.  This is much larger than the majority of speakers out there. The Vintage 30 has a 1.75″ voice coil.  The larger voice coil translates into a very detailed guitar amplifier speaker.
The bass response of this speaker is regarded as 'tight'.  This means the bass frequency will not be a full, and fat sound.  It will have more of a focused and balanced tone when it comes to the bass response.
Much like many of the great speakers from Celestion, the Redback has a detailed midrange and nice top end.  This allows an abundance of note clarity whether you are playing clean or with high gain tones.
One downside to the Celestion Redback is it has the heaviest speaker magnet that Celestion currently makes.  The Celestion Redback weighs in at 10.4lbs or 4.7kgs. If you don't want to make your Boss Katana a lot heavier then go for anything else on this list.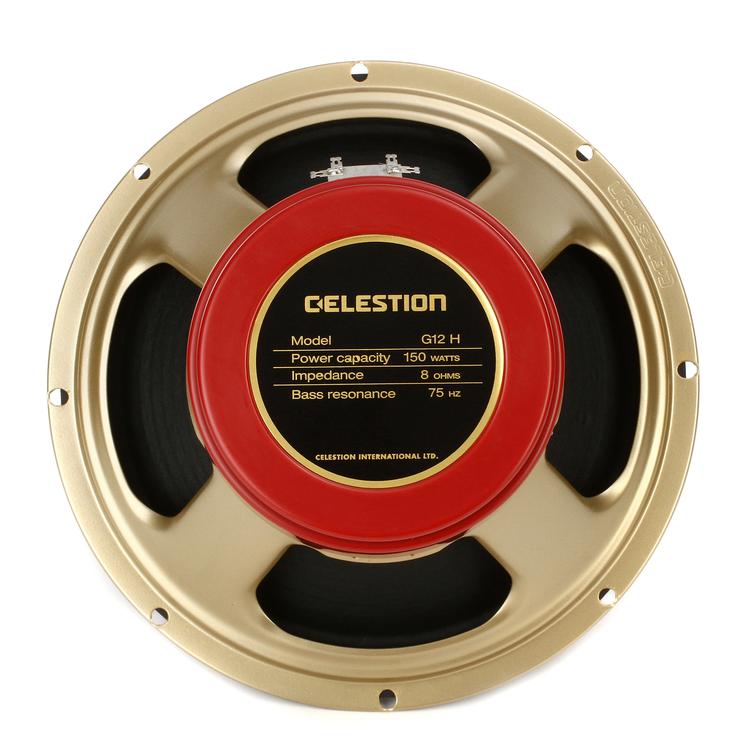 Changing the Speaker = Better Results?
Please recognize that changing a speaker in any guitar amplifier will drastically change the sound of the amplifier.  Being that sound is totally subjective this list will give you options based on your particular playing style and sound.  The Boss Katana 100 speakers are designed with the amplifier in mind but unlike what you read on a lot of forums, changing the speaker can have a positive impact.
If you are happy with the sound of the amplifier don't change anything! This list of speakers will be an overall improvement for people using the amplifier in the context of a live mix or gig.  If you are playing at home and your original speaker is not faulty, keep it in there.
Changing speakers can be a bit of a rabbit hole but this list of best replacement speakers for a Boss Katana will give you some great suggestions to point you in the right direction.  The goal of this website is to make sure you know what to expect before you buy anything.  As I mentioned earlier I highly recommend you check out my guide on how to choose a guitar speaker.  It will cover everything you need to know.
If you are ready to buy, the links above will take you to Sweetwater for the best deal in the USA.