The 6 Loudest 10″ Guitar Amplifier Speakers
This is a list of the 6 loudest 10″ guitar speakers on the market.  The reason why you would want a loud 10″ guitar speaker is simple; to make your amplifier louder.  There are also some other advantages to efficient speakers which can include a more clean headroom.
This list of the 6 loudest 10″ guitar speakers also sound really good! Having a great guitar tone is always the goal, but having an amplifier speaker that cuts the mix is also great.  This list of speakers ticks the tone and volume boxes.
Why You Want a Louder 10″ Guitar Speaker
Clean headroom translates into less speaker distortion.  Some speakers break up before your amplifiers clipping point.  This means your tone can become squishy or muddy at louder amplifier volumes.  Sometimes though, speaker character is part of the overall vibe!  If you are new to changing speakers read my recommendations about choosing and swapping speakers.
This list is from loudest to least loudest.  Please note that the least loud is still considerably louder than the speakers that aren't on this list! This list takes into account all brands and listings found online including Celestion, Eminence, Weber, WGS, and many more! If anything is missed please let me know. 
1. Eminence Ragin Cajun 10″ 75W 100.5 dB
The Eminence Rajin Cajun is the winner for the loudest American-voiced 10″ guitar speaker.  At 100.5 dB this thing really peels the paint off the walls!  The Ragin Cajun would make a great replacement speaker for any Fender amplifier that you want "more" out of.
One of the key characteristics of the Eminence Ragin Cajun is its high-frequency response.  This is a very loud, touch-sensitive speaker that has a "bell" quality to the tops.  This is well suited to Stratocaster and Telecasters players looking for some high-end snap.
One of the things I love about the Ragin Cajun is the fact the speaker has very little speaker distortion.  It stays very loud, and very clean when compared with other models.
Blues, Country, or Rock players will get a kick out of the Ragin Cajun!
2. Eminence RF10C 10″ 50W 100.4 dB
Guitarists who are looking for a thick sounding British speaker look no further than the Eminence RF10C.  This 10″ speaker packs in 100.4 dB of volume while being rated at a hefty 50 watts.
The Eminence RF10C is one of the loudest 10″ speakers in the World and features full low-end frequencies while still having a nice top-end. The Eminence RF10C is known to have a good amount of Grit once pushed loudly.
This speaker is well suited to players who want to Rock!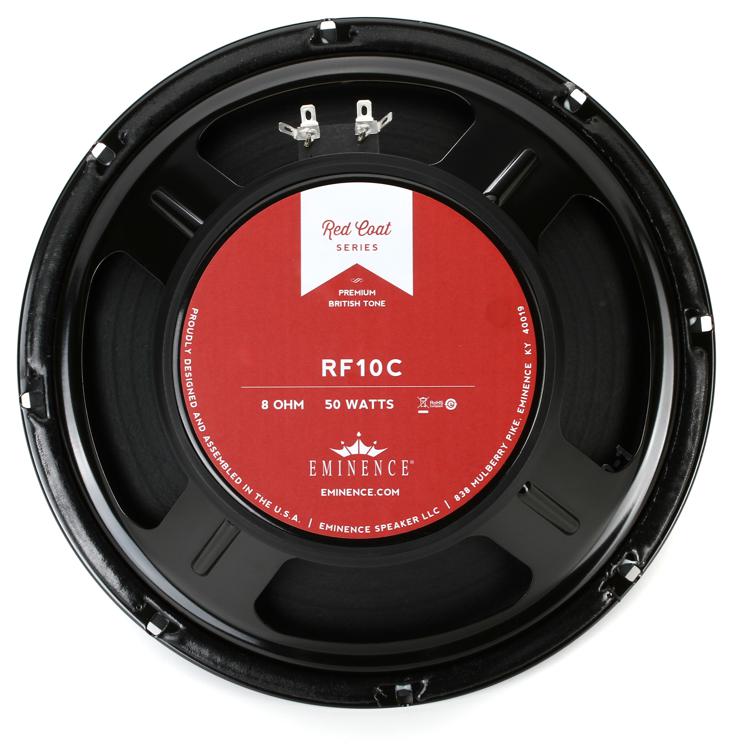 3. Eminence Ramrod 10″ 75W 100.2 dB
The Eminence Ramrod might be the coolest sounding speaker on the list. Something about "Ramrod" asserts power and dominance! The Ramrod packs in a crazy 75 watts of power handling while being able to provide up to 100.2 dB of volume.
4. WGS ET10 10″ 65 Watts 100.17 dB
I am shocked to say it, but WGS has one of the loudest 10″ guitar speakers I have found!  This is the WGS ET-10.  It packs in 65 watts of power handling at 100.17 dB making it a powerhouse! This great little speaker has way more low-end frequencies than you might expect from a 10″ speaker.
One of the awesome things about the WGS ET-10 is the bass response is always tight and never undefined.  The high frequencies are considered smooth without ever being harsh or nasty. If you want a thick and tight speaker with a British character, this is a great choice.
This has a more pronounced midrange than the 12″ counterpart from WGS (which is a good thing).
WGS makes very affordable speakers in the USA and this is a good choice for those wanting a loud 10″ replacement guitar amplifier speaker.
The WGS ET-10 is great for rock guitarists looking for a well-balanced speaker.
5. Eminence Legend 1058 10″ 75W 99.9 dB
Yet, another Eminence speaker on the list!  The Eminence Legend is a total powerhouse of a speaker considering it's only 10″ in size.  The Legend is a safe choice for many guitarists looking for a classic American style speaker.
This speaker is known for its punchy low-end frequencies as well as a smooth and bluesy mids.  If you're a blues guitarist, then this is the speaker you want.  The high ends are present but not too bright.
At 99 dB this speaker is one of the loudest 10″ guitar amplifier speakers available.  This is a fatter version of the Eminence 1028K speaker.  If you want a bit of extra warmth in the mix, give the Legend a shot! They call it the "Legend" for a reason.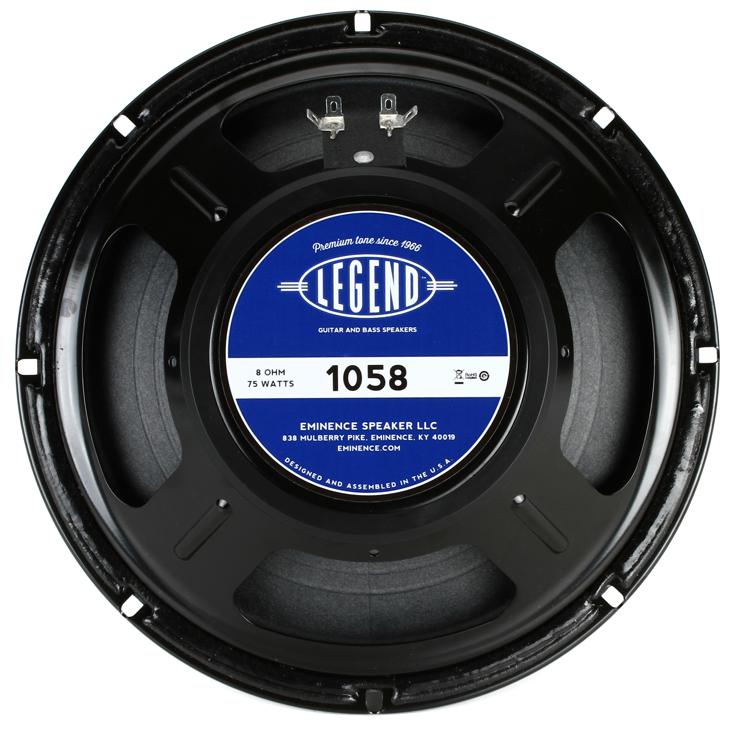 6. Eminence Cannabis Rex 10″ 50w 99.3 dB
Much like its 12″ counterpart, the Cannabis Rex 10″ is a total monster!  This loud little speaker can handle 50 watts of power and output a massive 99.3 dB in volume.  This speaker is designed for players wanting a clean and full sounding 10″ speaker.
This speaker is well suited towards Blues, Country, or Jazz players who like a big and open guitar tone. The Cannabis Rex is an immediate tonal upgrade to the majority of stock speakers you would find in Fender amplifiers for example. This is one of the loudest 10″ guitar speakers in the World!
Which amplifiers are these speakers Good for?
Anything with a 10″ speaker that meets the same power or ohm rating.  If you are not sure what rating your current speaker has please check my speaker rating database page.
To put it simply, all guitar tone is all subjective.  These speakers not only are loud, but they will no doubt be a great choice for many Fender amplifiers. If you have a single 10″ cabinet or combo then these are really great choices because they will make the amplifier louder.
Guitarists who use 2×10″ or 4×10″ amplifiers are actually at an advantage.  This gives you the ability to mix and match speakers giving you the ability to really customize and dial in a unique and personal tone. Mixing and matching speakers is an awesome thing and I will do a follow-up article about that.
Editorial Notes:
It would appear that Eminence mostly rules the World in regards to the loudest 10″ speakers on the market.
Guitarists looking for a Celestion speaker your best option is their new Celestion PULSE10 speaker. This comes in at 200 watts and 94 dB in volume which is several dB lower than the nearest Celestion. The good news is though, it can handle up to 200 watts!
Weber sadly didn't list their speaker sensitivity levels online. The loudest of the WGS speakers is the 10″ G10C/S.  This comes in at 75W and 98.02 dB.
For guitarists who also own 12″ guitar amplifiers, I also have a post regarding the loudest 12″ guitar speakers on the Planet.