The 7 Best Peavey Bandit 112 Replacement Speakers
Over the years, I have tried a number of replacement speakers in the Peavey Bandit 112 amplifier.  This is my list for the 7 best replacement speakers for the Peavey Bandit 112. This list will apply to any version of the Bandit 112.  It doesn't matter if you have a teal stripe, red stripe, Bandit 65, or silver stripe bandit (or a new one).
This article will take into account the best speaker for any desired music style and tones.  For example, if you use the vintage drive channel or the modern channel the speakers listed will be tailored to that. Please also note that if you are a Peavey Studio Pro 112 owner, this list is also for you too.
The Stock Speakers
For those wondering "what on Earth is wrong with the stock Blue Marvel or Sheffield speaker?", then that is fair.  The stock speaker is decent but it's not making the most of the amplifiers abilities.
Peavey does ship their amps with very good speakers but this list of speakers will really kick it into the next gear and make it sound a lot more like a boutique amplifier.  I've shocked many people playing my Peavey Bandit 112 on stage, especially when they find out it's a transistor amplifier.
Just so you know, every +3 dB of added sensitivity makes the speaker twice as loud. So a speaker that is rated at 98 dB is nowhere near as loud as a speaker rated at 102 dB, for example.
The Peavey Bandit is loaded with an 8 OHM speaker so make sure you replace it with an 8 OHM speaker. To find out more about replacing your speaker please read my detailed article about how to choose a guitar speaker.
1. Eminence Texas Heat (150 watts / 99.4 dB)
The Texas Heat is a total beast of a speaker.  For those looking to fatten out the amplifier sound by a mile, this speaker is the best pick.  The Texas Heat from Eminence is part of the Patriot series of speakers.  This means it has a high headroom "American" voicing perfect for the Bandit amplifiers.
This is the single best speaker upgrade I tried in my Red Stripe Peavey Bandit 112.  Not only did it make the vintage lead channel sound louder, but it also made it way more pleasing to the ear. The lead channel sounded like the amp had a brand new, thicker, fatter drive channel.  I loved it!  The benefit of the Texas Heat is it will also take out the high end "brittleness" inherent in some solid-state amplifiers.
At 150 watts, the Texas heat will give the amplifier much more clean headroom if you require it.  The power handling will have no problems with the 80 watts of the Bandit 112.  Thanks to the 99.4 dB rating of the Texas Heat, it will have no problems being heard in the live mix.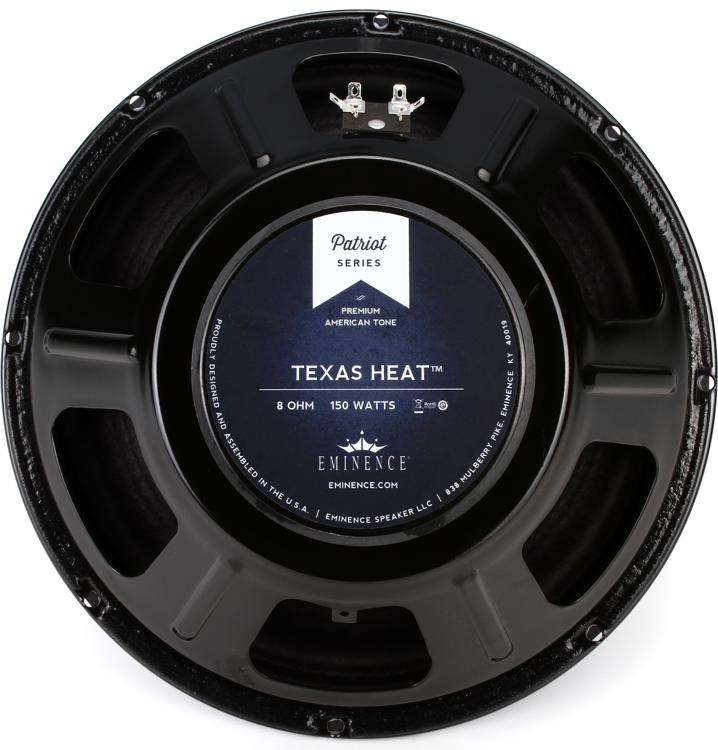 2. The Eminence Swamp Thang (150 watts / 102 dB)
One of the great things about the Eminence Swamp thang is it is one of the loudest speakers ever! Rated at 102 dB this will add a kick of audible volume to your amplifier while still remaining very clean.  The Swamp Thang offers a lot of cool tones.  It technically has more low-end bass response than the Texas Heat but it's a different kind of low end.
For those who like the higher gain tones, the Swamp thang would be the best-suited speaker for the Bandit.  If you find yourself living on the high gain or modern gain channels this is the best choice.  Alternatively, if you like the vintage channels on the bandit go for the Texas Heat.
The Swamp Thang is one of the nicest speakers I have ever used.  This option allows for more high end to pass through than the Texas Heat and doesn't quite have the fat mid frequencies of it either. This was another no-brainer for the best Peavey Bandit 112 replacement speakers.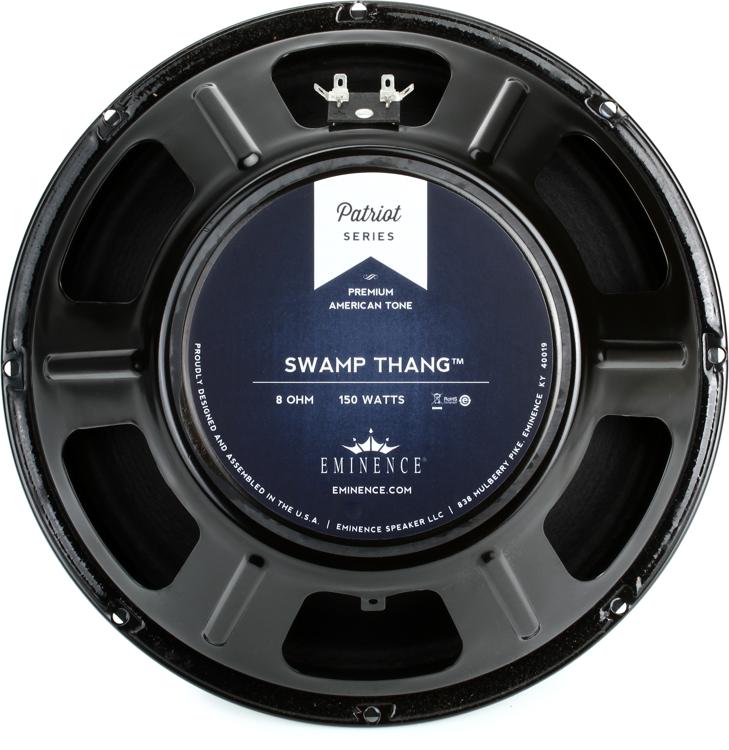 3. Eminence Man O War Speaker (120 watts / 101.6 dB)
Looking for a "British" sound with all the power in the World? Then the Eminence Man O War speaker is a great choice.  This fire-breathing speaker is one of the loudest in existence but it also makes the Peavey Bandit 112 sound a lot thicker and fuller.
This will be a great choice for not only the Vintage drive channel but it sounds great on the Modern and High Gain channels.  If you love to chug, the Man O War is a solid contender for the best speaker replacement in a Peavey 112.  I can highly suggest checking this very underrated speaker out.  This is along similar lines as the Swamp Thang but with a more focused sound.
If you like your higher gain British rock n roll tones then give the Man O War a look.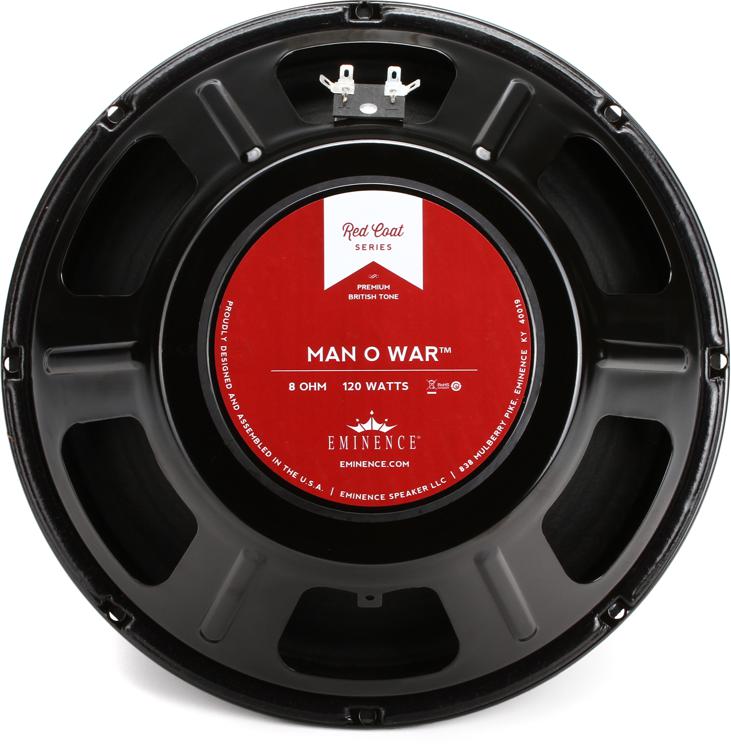 4. The Eminence Wizard Speaker (75 watts / 102.8 dB)
This is another wonderful sounding Eminence speaker. I am a big fan of the magic Eminence speakers can provide on the Bandit 112 and also on any Solid-State amplifier.  The Eminence Wizard has a very focused low-end frequency making it appealing to moderate to high gain players.  This speaker never gets muddy in the mix.
The top-end frequencies, however, are quite bright but this will work great for higher gain tones.  The more gain and compression you have in your signal, the more top end is usually lost. The Wizard is also very, very loud! This is the loudest speaker on the planet.  Compared with the stock speaker this blows it out of the water volume-wise.
Consider the Eminence Wizard for someone who wants to rock.  It can also work well on the Vintage drive channel for blues but it sounds best cranked and rocking.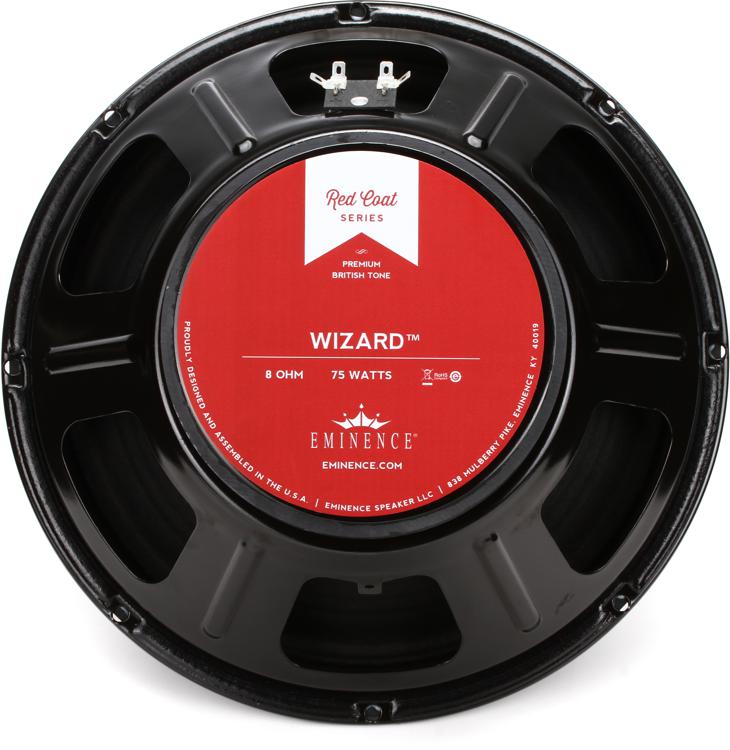 5. Eminence Red White and Blues (120 watts / 101 dB)
This Eminence speaker does it all.  The Eminence Red White and Blues is like a mix between the Swamp Thang and Texas Heat.  I've heard this speaker in a number of amplifiers over the years and it always responds well and sounds fantastic.  This is a little bit like the Texas Heat but with more top end.
One of my best friends has this in his silver stripe Peavey Bandit 112 and it rocks.  He has also tried this speaker in the silver stripe Studio Pro 112 and it made a massive upgrade to the tone.
Don't let the name fool you, this will suit any style of music and is one of the most musical speakers on the planet.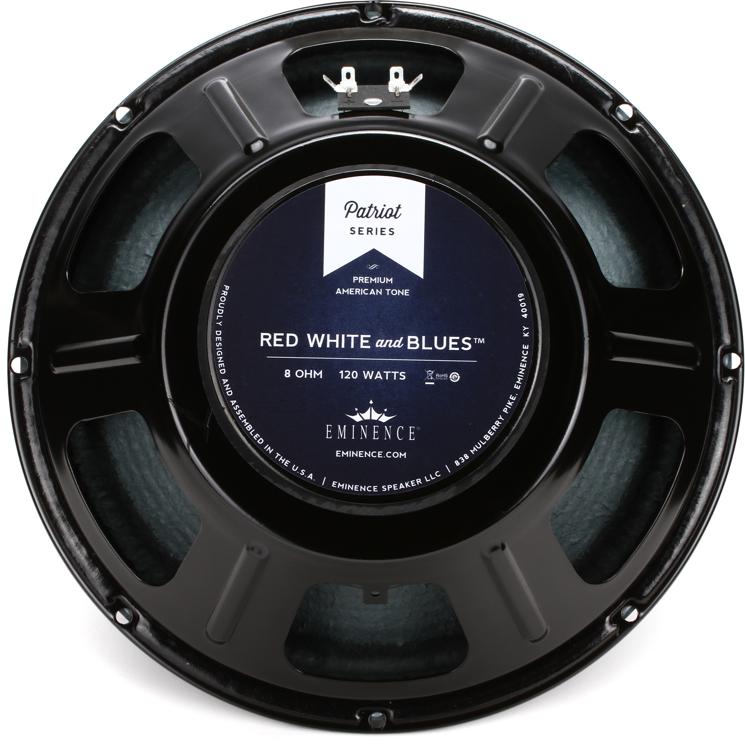 6. Celestion Classic Lead 80 (80 Watts / 99 dB)
The Celestion Classic Lead is a speaker that was designed in the 1970s and is one of the very few Celestion speakers that meets the power requirements of the Peavey Bandit 112.
I had a chance to compare the Vintage 30 and Classic Lead 80 back to back and what I noticed was the Classic Lead 80 stuck out of the mix a lot more. The Vintage 30 is a great sounding speaker but there are an upper mids bump in the lead 80 that will work great for any Peavey Bandit.
If you love the higher gain channels on the bandit and your main thing is soloing, then check out the Celestion Classic Lead 80.  This is a very underrated Celestion speaker that high gain players will love. Not only is this one of my favorite speakers ever, but it's also easily one of the best replacement speakers for the Peavey Bandit.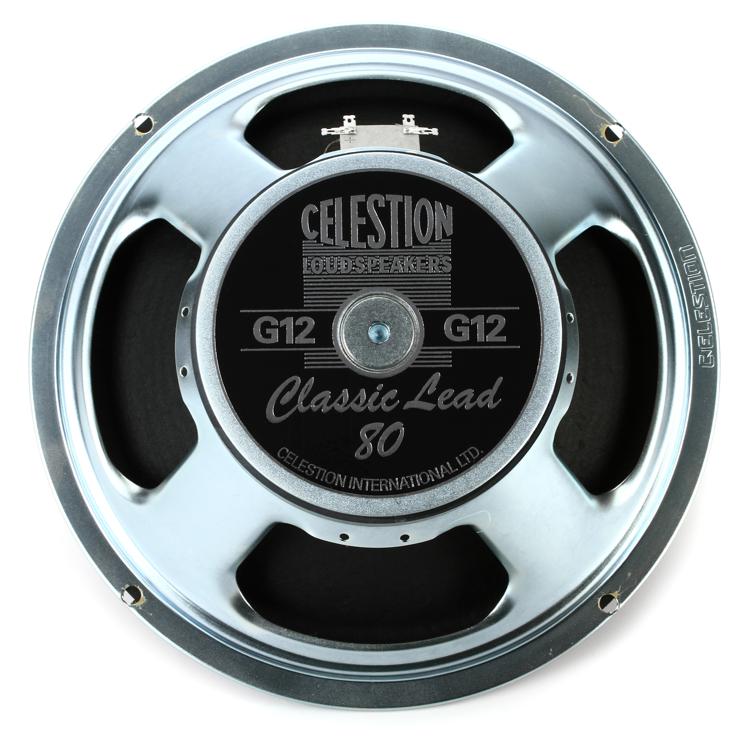 Peavey Studio Pro 112 Owners (Bonus Speaker)
7. Celestion Century G12 Speaker (60 watts / 98 dB)
This speaker is on the list for any Peavey Studio Pro 112 owners reading my recommendations.  The Studio Pro is rated at 60 watts and doesn't require such a high-watt speaker. I am sure a number of Studio Pro 112 owners are wondering what their options are.  Anything on this list would work great in a Studio Pro 112.
The only Neodymium speaker to make this list is the Celestion Century G12.  This lightweight and great-sounding speaker from Celestion ticks a lot of boxes in a Bandit.  Not only will it make the amplifier much lighter, but it will also sound fantastic.
I had one of these speakers in my Peavey Bandit for many years and it really suited the cleaner tones best in my experience.  If you like to use effects pedals into the clean channel and want to save your back by making the amplifier lighter then this is an awesome speaker.
Hard to Find
The Celestion Century G12 Neodymium speakers are a little tough to find these days but I prefer this over the majority of Neo speakers I have had a chance to use over the years.  The top end is very nice without ever sounding shrill or harsh.  The low frequencies also sound great without ever losing note definition.  This might not be as loud as the other speakers on the list but it sure sounds great.
Home studio users will love this speaker. I actually recorded a few albums using this speaker in my Bandit 112 and also in a Hot Rod Deluxe. These speakers are rated at 60-watts RMS so just be careful with the channel volume.  If you ever need to turn the amp up past halfway, please avoid this option. The Bandit is rated at 80 watts and your speaker may be damaged if you turn it up too far.
A Word of Warning with any Sub-80 Watt speaker
Like I mentioned, I used this for a lot of gigs with no problems at all so just err on the side of caution when turning the amplifier up too far.  Tone Wise, this speaker rocks.  In terms of how it will respond in a Peavey Studio Pro, it will work great.
Final Thoughts
Any of these replacement speakers will work great in a Peavey Bandit 112 guitar amplifier.  Depending on if you use the higher gain channels or not will really determine which speaker will work best for you.  If you are not sure what it is you don't like about your original speaker I suggest reading my post regarding How to choose a guitar amplifier speaker.  This article will cover all of the frequently asked questions as well as a few things you might have thought about.
The Peavey Bandit 112 is a great amplifier and the stock speakers are pretty decent.  If you are a gigging musician then the speaker upgrade will give you drastically better tones.  This list of best replacement speakers if from my own personal experience and should be an excellent starting point for your speaker replacement journey.