The Best Speaker for a Fender Super-Sonic 22 Combo Amplifier
This article will cover the best speaker for a Fender Super-Sonic 22 combo amplifier.  Of course, the "best" is subjective, but after testing many speakers in a deluxe-reverb and super-sonic, here is my suggestion.  One key fact is you require to replace the stock speaker with a 12-inch, 8-ohm speaker rated at 22-watts or higher.  All of the options on this speaker guide will point you in the best direction possible.
For those new to choosing a guitar speaker, please read my speaker guide about what to know ahead of time and what you can expect from changing speakers.
This is the Fender Super-Sonic 22. It also comes in a blonde color.
Is it Worth Upgrading the Fender Super-Sonic 22 Speaker?
If you purchased a Fender Super-Sonic in 2020-2022, you have the newly upgraded "Fender Eminence" speaker.  This upgrade over the brown sticker Fender speaker is enormous and doesn't always require an upgrade.
The biggest complaint with the stock speaker is that some people find them very bright sounding.  I have go-to options that drastically tame the top end if this is the case.  The newest model of the Super-Sonic has a speaker that sounds very similar to a Vintage 30.
For a while, Fender put Celestion Vintage 30 speakers in their Super-sonic, and I never liked the result with them either.  I always felt like Vintage 30 speakers and Greenbacks sounded best in a 2×12 cabinet and can be too bright in an open-back 1×12 cabinet.
Please Note:
These speakers are not listed best to worst, so please read each speaker's description and what you can expect from each.  Sound is subjective, depending on your needs.
1.  Jensen C12K (100-Watts \ 99dB)
The Jensen C12K speaker is the stock speaker found in the Fender Deluxe reverb and is an obvious choice for a 1×12 Super-Sonic 22.
This speaker will tone the sound out on the low frequencies while removing some of the bite from the treble frequencies.  As a result, the Jensen C12K retains the classic Fender sounds without drastically changing every aspect of the amplifier tone.
This 12″ Jensen guitar speaker has a tight low-end sound, aggressive midrange, and subtle highs.  The speaker can also be pushed into distortion, giving you a very edgy overdrive tone sought after by many professional players.
The Jensen C12K has a distinctly American tone.  The Jensen is a very balanced speaker.  Some people find them a little bit too bright in the higher frequencies, but not me.  I think this is one of the best-suited speakers for a Super-Sonic 22 amplifier.
Buy it on Sweetwater | Thomann
2.  Eminence Texas Heat (150 watts / 99.4 dB)
The Eminence Texas Heat is a great speaker for the Fender Super-Sonic 22.  This speaker will give you a much chunkier/fatter low-end sound while rolling out the high frequencies.  The Texas heat is my go-to speaker when the top end needs attenuation while also requiring a much fatter and louder sound.
Thanks to the fat-sounding nature of the Texas Heat, it will fatten out the Burn channel on your Super-Sonic 22.  The Supersonic 22 amplifier has more bass on the clean track than on the drive channel.  While this will still be the case with a Texas Heat, it will make it much fatter-sounding.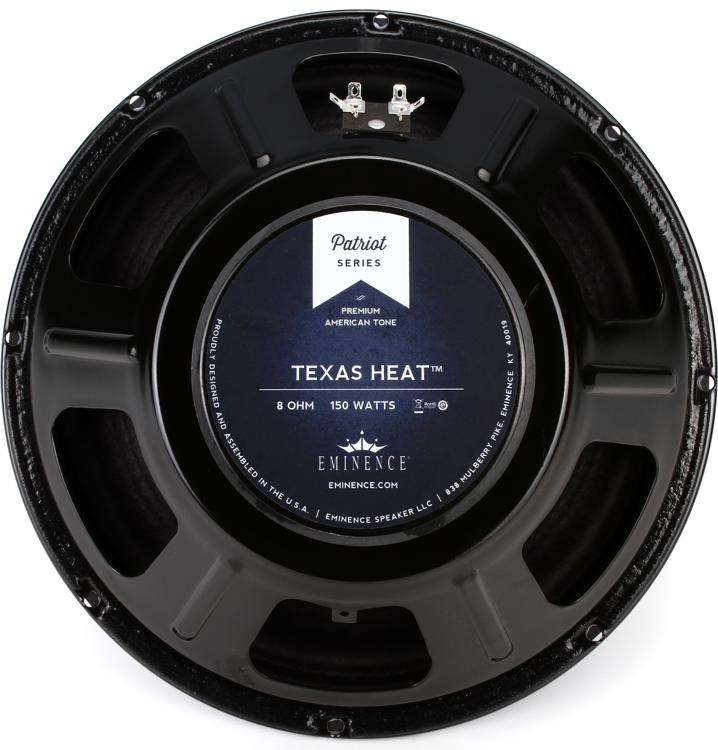 3.  Celestion A-Type Speaker (50-watts\98dB)
This great-sounding American-voiced speaker can be pre-installed in many Fender Amplifiers.  Fender also released their '68 Custom Deluxe Reverb with a Celestion A-Type speaker, and it's a great match!  Unlike many Celestion speakers that lean towards the British sound, the A-Type would be home in the Super-Sonic 22.
The first thing to love about this speaker is the price.  It comes in at only $99 and has some of the roundest tones out there.  An A-Type speaker is an excellent opting for a classic American speaker without the price tag.
The Celestion A-Type speaker can easily handle the 22-watts of the Super-Sonic 22.  You'll also find these in other Fender amplifiers like the Hot Rod Deluxe IV that I think is the best it has ever sounded with any "stock speaker."
While this is an inexpensive replacement speaker alternative, there is no compromise on tone.  Guitarists who like a lot of attitude in their Super-Sonic 22 amplifiers will get a kick out of this high headroom speaker.  In addition, this Celestion A-Type speaker will be a more balanced alternative to the stock Fender Eminence and slightly brighter than the others listed on this page.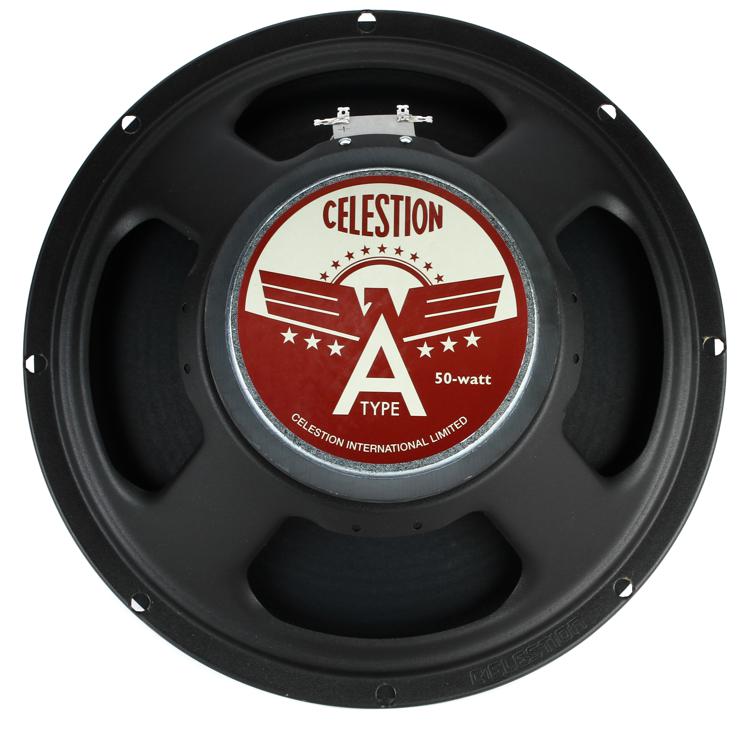 Buy it on Sweetwater | Thomann
4.  Eminence Red White and Blues (120-watts 101 dB)
The Eminence Red White and Blues is perhaps the most underrated speaker of all time.  This 12″ guitar speaker sounds so great in a Fender Super-Sonic 22.  Firstly, it gives the super-sonic more punch in the lows and doesn't take away from the classic Fender tone.
This video below shows the Eminence Red White and Blues in a Super-Sonic 22 versus the Jensen C12K in a Fender Deluxe Reverb.  We shot this video about nine years ago!
This 12″ Eminence speaker packs a punch at 101dB, making it an excellent choice for sticking out of a live mix.  The Eminence Red White and Blues is a perfect speaker for Blues, Southern Rock, and classic rock guitarists.
With the 120-watts power handling of this beast, the clean headroom will be far higher than that of a Jensen C12K.  If clean headroom is essential, this is a great choice.  The Patriot series offers a lot of great speakers for the Fender Super-Sonic 22, thanks to their American voicing.
How to Change the Speaker in a Fender Super-Sonic 22 Combo Amplifier
The video below will show you how to change the speaker in your Super-Sonic 22 amplifier.  Please watch this guide before attempting to unscrew your Super-sonic amp!