The Best Fender Princeton Reverb Speakers
This article is a list of the best Fender Princeton Reverb 10″ speakers for a Fender Princeton reverb amplifier.  Fender has also released a 12″ speaker version, but this will focus on the 10″ speaker amplifier. These speakers will either make a worthy upgrade or replacement speaker for the stock Fender Princeton reverb speaker. For those that consider volume paramount, I have a list of the loudest 10″ speakers please click the link for more information.
Please note:  The Fender Princeton Reverb uses a 10″ 8-ohm speaker by default and, it's advisable to make certain your replacement speaker matches this specification.  This list applies to the Fender '65 and '68 Princeton Reverb Amplifiers.  For those who own a vintage Princeton, these speakers will also be fine.
1. Celestion Gold 10″ (40-Watts / 98dB)
The Celestion Gold 10″ speaker is by far the most popular speaker for the Fender Princeton Reverb amplifier. This speaker is one of the most premium speakers on the market, and it will cost more than the rest of the speakers on this list.  Price aside, the Celestion Gold 10″ speaker has a lot to love about it.
The Celestion Gold 10″ is known for its enormous sound that will make the Princeton sound a lot bigger than with the stock Fender or Jensen speaker.  The tonal characteristics of the Celestion Gold will give you a much warmer and fuller low end that will never get muddy with a beautiful mid bump and high end.
The Celestion Gold will never get too bright or "ice-picky" to the ear, so if that is important to you, then this is a solid choice.
Thanks to the Celestion Gold 10″ having a sound pressure level (or SPL) of 98dB, these are very loud amplifier speakers capable of spreading more sound than the stock speaker.
The Gold's mid-bump will help you stand out in the mix and give you more 3D projection in the mix than the stock Fender Eminence speaker found in the '65, for example.  While these speakers come at a more premium price, they are justified in their tonal qualities and come in at the #1 spot on my list.  While the Celestion Gold is a "British" sounding speaker, it works beautifully in the Princeton Reverb amplifier.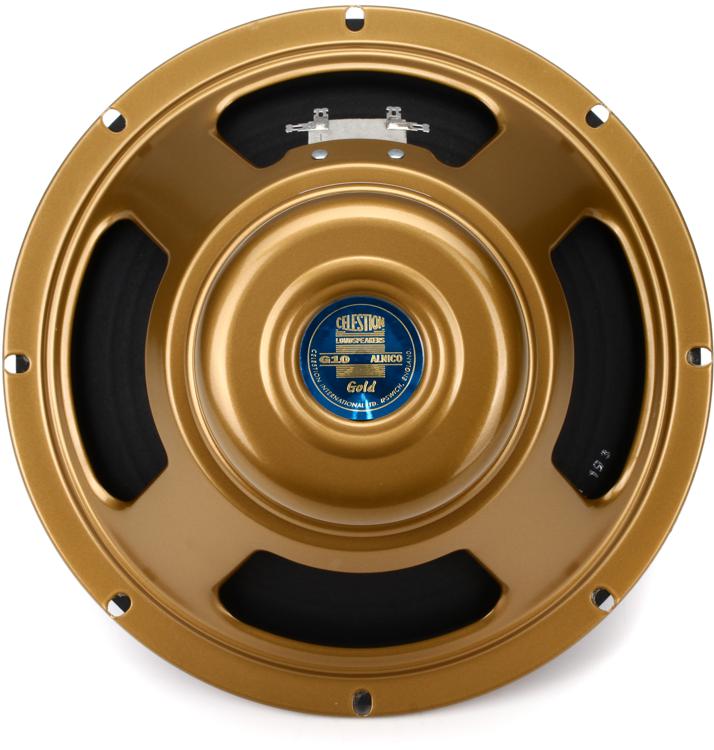 2. Eminence Ragin Cajun (75-watts 100.5db)
I love these Rajin Cajun speakers! Not only do they pack a punch in terms of volume, but they also sound fantastic.  The Ragin Cajun speaker will offer a far superior experience over the regular stock speaker at a great price.
The Ragin Cajun speaker is perfectly suited to the Princeton because it keeps the "bell-like" tone of the Fender sound.  The aggressive and prominent low-end frequency will be a welcomed addition to any Princeton owner amplifier.  This low end is great because it gives you a much thicker sound without ever getting undefined.  The Ragin Cajun has a moderate mid-rate bump that will allow you to get heard in the mix.
Thanks to this speaker's efficiency, you will get a much larger overall sound. This extra oomph is why it's one of the best Fender Princeton speakers on the market.  The Ragin Cajun is always a massive upgrade over the stock speaker.  The Ragin Cajun speaker has an "American" voicing making it a perfect match for any Fender Princeton amplifier out there.
Coming in at 100.5dB, this speaker is one of the loudest on the market.  This volume is a welcomed addition to any Fender Princeton Reverb owners amplifier.
3. Eminence Alessandro GA10-SC64 (20-watts / 100.5db)
The Eminence Alessandro GA10-SC64 is a 10″ is a popular choice for any Fender Princeton reverb.  One of the biggest criticisms of the stock Jensen speaker is a lot of people find them brittle or sterile sounding.  The Eminence Alessandro GA10-SC64 will give you a significant improvement overall removing this "ice-pick" attack and trading it for a more balanced tone.
Another key character of the Alessandro speaker is that it is very reminiscent of a vintage-voiced speaker. The slogan on the front of the speaker says, "Sound Circa 1964".  This label will give you a very good indication of what you can expect.
Guitarists who love the vintage amplifier tones should go for this speaker. Given that the speaker is very well balanced, you won't have issues with the low end getting messy or distorted.  This tighter low-end will be great for recording sessions or playing live and for fans of a vintage-sound.
Additionally, the Eminence Alessandro GA10-SC64 is one of the least expensive guitar speakers on this list! If you don't want to spend a lot of money and want a massive upgrade in tonality, this is a great choice. Lastly, the 100.5dB sound pressure level is loud enough for most musicians looking to add a bit of a volume kick to their Princeton amplifiers.
4. Celestion Greenback (30-watts / 95dB)
One of the nicest sounding Princeton speakers I ever tried was one loaded with a Celestion Greenback.  I was quite shocked that I liked it as much as I did because up until then, I was never that impressed with 10″ Greenback speakers.
Usually, I find these smaller Greenbacks a tad "small-sounding," but not this time.  The Greenback speaker offers a Princeton a wide range of tones while still keeping the vibe of the amp intact.
One of the key characteristics of the Greenback is it sounds warm on the low end compared to the stock speaker.  The treble frequencies are attenuated in comparison with a Jensen, but it still works extremely well.  Below is a video I shot of a Princeton with a Greenback, and it was one of my favorites of all-time!
Sure, this is a British sounding speaker, which might take away slightly from the American vibe, but it still works well.  The Greenback might not be the loudest speaker on this list, but it has a sound that will appeal to fans who play rock.  The inherent speaker distortion of the Greenback is a highly sought after sound by a lot of guitarists.
5. Weber 10A125 (20/30-watts)
The Weber 10A125 is a USA-built speaker that delivers great tones for any 10″ Princeton amplifier.  This speaker is in many ways like a premium Jensen speaker.
Ted Weber Speakers are built with tighter, more concentric voice coil gaps, and lower carbon, machined steel parts in the magnet circuits which yield a stronger, more controlled tone at all volumes, particularly in the low end at high volumes. – Weber Website
Tonally speaking, there's a lot to love about this speaker.  The Weber 10A125 has a very articulate high end that rolls out nicely as the amplifier is cranked louder volume volume-wise.  This Weber speaker has a punchy sound while also exhibiting a smooth breakup.  This speaker breakup will color the sound, but it is very musical.
The Weber 10A125 comes in both a 20-watt or 30-watt version.  Either of these two speakers that will be fine in a Princeton. The advantage of the 30-watt version is you will get less speaker distortion.  The 20-watt speaker will add more speaker distortion to the amplifier tone.  Depending on your needs, you have a choice between the two.
How to change the Fender Princeton Reverb Speaker
This video is the official Fenders suggested way on how to change the speaker on a Fender Princeton.  This will also show you how to change the speaker on any Fender amplifier or speaker cabinet.
Why You Should Upgrade the Speaker
There are a few reasons why you will want to upgrade from the stock speaker in the Princeton amplifier.  The first reason is that you require a replacement for a faulty or damaged speaker.  The second is that you require something you can't get from your original speaker.
Guitarists who are new to changing speakers I highly suggest reading my guide to changing guitar speakers.  This speaker guide will cover all the FAQs as well as troubleshooting the speaker you already own. If your original speaker is performing well and you love the sound of it, then there is no reason to change it.
Changing the speaker in any amplifier will drastically change the sound.  This modification is the easiest and least expensive modification you can make to make the Princeton sound completely different or far more premium depending on your needs.