The 10 Best Fender Blues Jr Replacement Speakers
Post updated 20 July 2021
This is a list of the 10 best Fender Blues Jr replacement speakers.  This list of replacement speakers is from personal experience and is listed in no particular order.  The Fender Blues Jr IV (and all other versions) use an 8-ohm speaker.  Please make sure to replace it with a speaker of the same rating.  If you are new to replacing speakers in a guitar amplifier I highly suggest reading my guide on choosing a guitar amplifier speaker. This link contains all the frequently asked questions.  If you don't want to spend time learning about it that's all good. I can save you time with my suggestions below.
I've owned two different blues Juniors over the years and have tested many others.  I've been lucky enough to try them with a lot of different replacement speakers from my own testing and limited-edition versions.
The two Fender Blues Junior amplifiers I owned were the regular black Tolex version and the limited edition FSR Gold one.  The Gold Blues Junior was Celestion Greenback and didn't do the amp too many favors in a live situation.
The Fender Blues Junior IV Stock Speaker vs Replacement Speakers
If you own a Fender Blues Jr IV you might already be very happy with the Celestion A-Type speaker.  The Celestion A-Type speaker is a huge upgrade from the older versions of the amplifier with the lackluster stock speaker.  If you own a Blues Jr IV and want to get even more out of it, this list is also very applicable.  The A-Type is a really solid speaker and should be fine for the majority of players. This list will give you some alternative tone voicings you can choose from. This article will cover my favorite replacement speakers for this great little amplifier from Fender.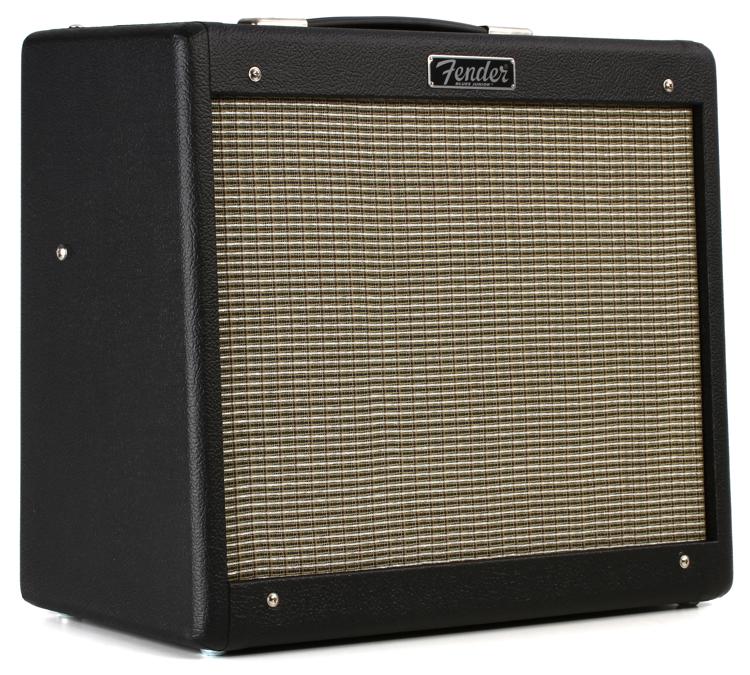 The Benefits of Replacing the Blues Jr Speaker
The best way to save some money is to buy the regular black on instead of any special run, and just replace the speaker.  Minus the color of the Tolex, you will have a much superior Blues Junior at a much better price.
Another huge benefit is you will have a very unique sounding Blues Junior. Customizing the speaker is the biggest upgrade you can make to any amplifier. One of the limitations of the Blues Junior is it will not be loud enough for a lot of gigs.  Some of the replacement speakers on this list will be massive upgrades in terms of volume and most importantly, tone.
My 10 Favorite Fender Blues Jr Replacement Speakers
This list of speakers will be perfect for anyone wanting to get more volume and simply, more tone out of their Blues Junior.  These speakers are in no particular order as guitar tone is very subjective.
1. Eminence Cannabis Rex (50 watts 101.8 dB)
The Eminence Cannabis Rex is a great speaker for the Fender Blues Jr IV.  You will also find this is a very popular speaker for many other Fender amplifiers. I have heard this speaker make massive upgrades to a Super-Sonic 22 and Hot Rod Deluxe as well.
The Eminence Cannabis Rex is a 50-watt 12″ guitar speaker and it's very, very loud!  The sensitivity of this speaker is 101.8 dB making it one of the loudest speakers on the planet.  If having a loud volume is important to you then this is a great choice.  Without question, the Eminence Cannabis Rex will give your Fender Blues Junior way more volume and headroom.  This goes to show that "watts" isn't "volume".
Tonally speaking, this speaker ticks a lot of boxes.  The top end is very Fender without getting too carried away into a bright territory.  The bass response is very nice as well without ever sounding muddy.  This is the first choice for many Fender amplifier players because it doesn't detract from the tone of the amplifier, it only adds good things.
The Cannabis Rex is part of the Patriot series of speakers who are 'American' in their voicing.  This voicing lends itself to a cleaner and rounder sound over the 'British' sound.  The video below showcases how the Eminence Cannabis Rex sounds in the Fender Blues Jr III.
You could find the Cannabis Rex speaker as a stock option in the limited edition baby-blue color blues junior III from a few years ago.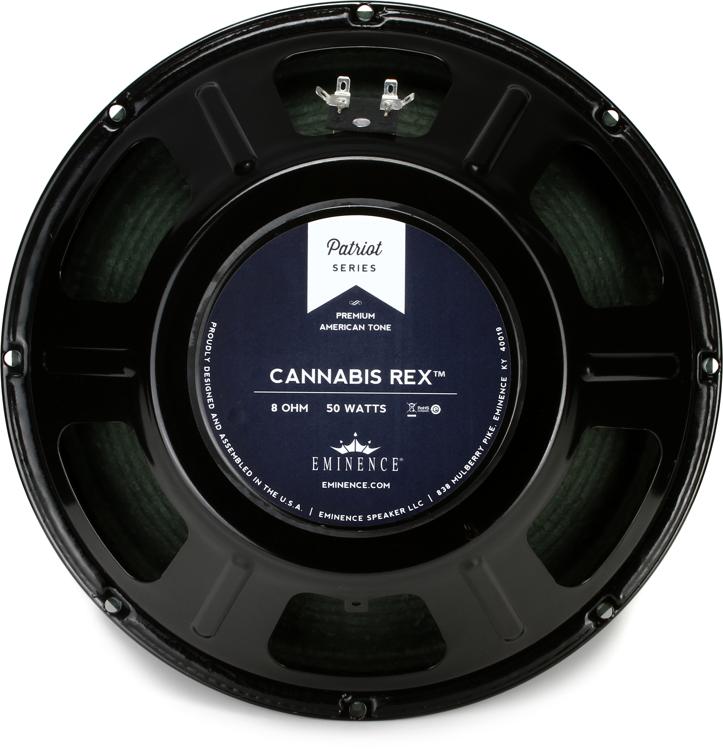 2. The Eminence Swamp Thang (150 watts / 102 dB)
This speaker has the "Fender Sound".  It has lots of nice low-end mixed with some beautiful high-end.  The Eminence Swamp Thang speaker is also used in higher gain amplifiers as well thanks to the extended bass response.  This is a great choice for a Fender Blues Junior for several reasons.  The first reason is it will make the amp way louder and you'll also get way more clean headroom.
Rated at 150 watts, it can handle as much volume as you throw at it. The Eminence swamp thang is an ideal first speaker upgrade for anyone wanting to ditch the stock speaker. Another advantage of this speaker is it has a lot of clean headroom.  If you want your amplifier to be louder and cleaner longer, it's a great choice. This is one of the most efficient speakers on the market which means it is very loud coming in at 102 dB.  With very little speaker distortion, the Swamp thang will give you the true sound of the amplifier without the added speaker breakup.
Much like the Cannabis Rex, the Swamp Thang is also part of the Patriot series of speakers from Eminence.  This speaker will give you classic American tones and will have slightly more headroom than the Cannabis Rex.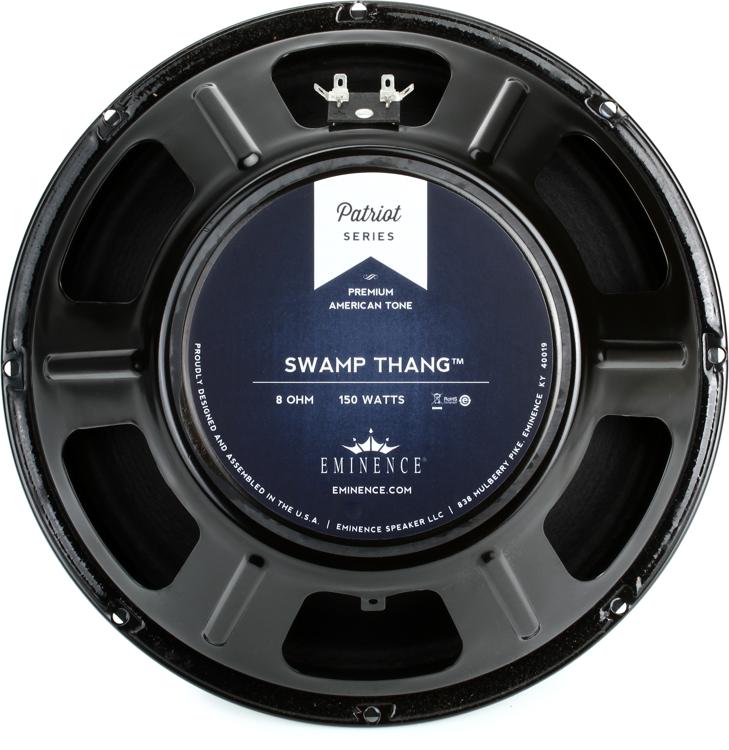 3. Eminence Texas Heat (150 watts / 99.4 dB)
The Eminence Texas heat is one of the best speakers for a Fender Blues Jr or Blues Jr IV.  If you like your tones fat, thick and juicy then it is a great choice.
One thing to note about this Texas Heat speaker is it will roll out some of your treble frequencies.  In comparison to the Swamp Thang (above), the Texas Heat has far less treble.  I sometimes find the high end on a blues Junior can get a little too ear piercing with the stock speaker.  The Texas heat will add a much fatter sound to the low-end frequencies but also tame the high frequencies.
If you'd like to dial out a bit of that Fender top end then this is a great choice.  The Eminence Texas Heat sounds thick and full for recording and is also a great choice in a Blues Deluxe.  For those who love to play slide guitar and dirty blues, this is a great choice! This is definitely one of my favorite replacement speakers of all times and will work great in a Fender Blues Junior.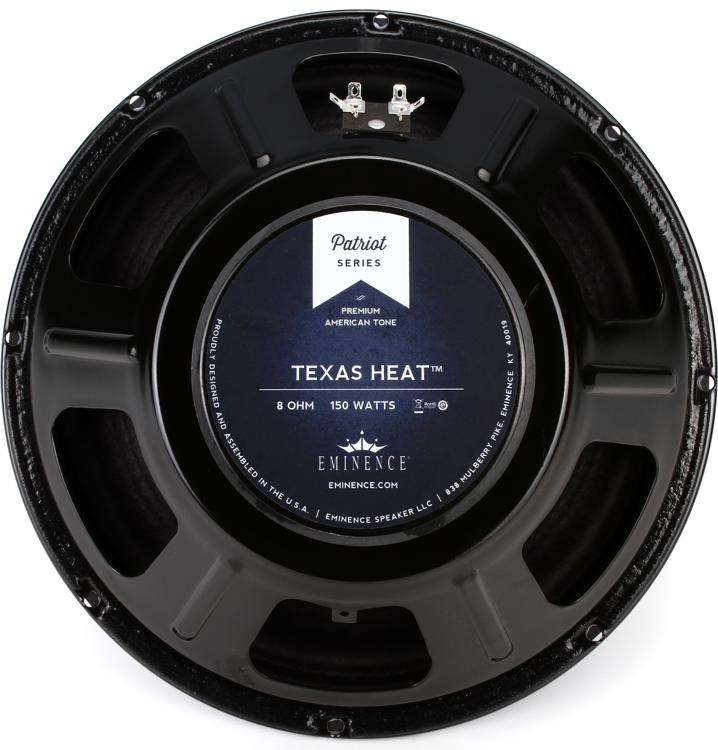 4. The Eminence Wizard Speaker (75 watts / 102.8 dB)
This is another great choice for a Fender Blues Junior for getting more volume out of your beloved Fender Blues Jr.  The Wizard speaker is one of the 'British' voiced speakers.  This is a popular speaker for many other EL34 and EL84 amplifiers thanks to that classic crunch tones. If you play a lot of Rock music, the Wizard will give you a taste of that famous English sound.
The top-end frequencies, however, are quite bright but this will work great for higher gain tones.  The more gain and compression you have in your signal, the more top end is usually lost. The Wizard is also very, very loud! This is the loudest speaker on the planet.  Compared with the stock speaker this blows it out of the water volume-wise.
Consider the Eminence Wizard for someone who wants to rock. I've heard this speaker works great for thicker lead blues tones as well but if the high frequencies of the Blues Jr is a bit too bright for you already, this is probably not the choice for you.  This will be a big difference in terms of tone over any of the American-voiced speakers on this list. The British sound is quite a bit different.  The reason this works well is the Blues Jr is an EL84 amplifier that is very similar to a VOX AC-15 in many ways.
The Wizard also shines with that off-clean tone (think 'Little Wing'). Compared with the original stock Fender Eminence speaker, the Wizard is more articulate, fuller, and will fill the room a lot easier.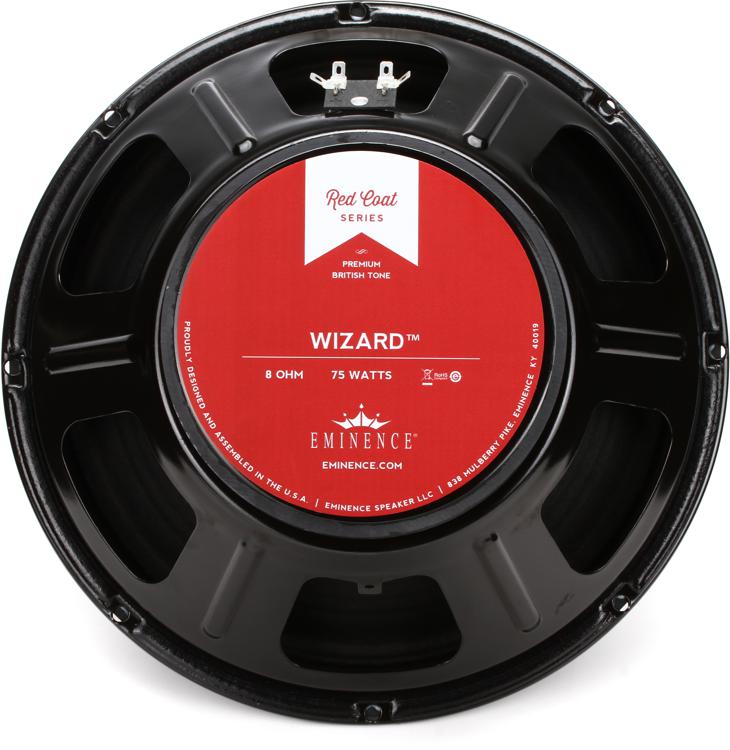 5. Jensen C12N Speaker (stock in tweed limited edition and "NOS" models)
The Jensen C12N speaker is still being used in the limited edition Tweed Fender Blues Juniors.  I say "limited edition" in jest, as these models are clearly not a limited run. The Jensen C12N reissue is still being made in Italy and they really capture the classic American sound.  It goes to show it doesn't matter where the speakers are made, if they sound good they are good.
The Jensen C12N makes a huge difference over the stock speaker for several reasons.  If you are a live player you will instantly notice way more of your tone cutting the mix.  The reason this speaker sticks out of the mix so well is it has an upper mids boost that is instantly noticeable and it's perceived as louder to the ear.
One thing to make mention of tough is the high frequencies.  The Blues Junior amplifiers are already very bright and some people find this speaker a little too shrill to their ear.  For me though, I would take this any day of the week over the stock speaker.  Unlike a lot of Eminence speakers that don't require any break-in, the Jensen is known to soften over time.  Keep it in there for a few gigs, crank it up and see what you think.
The Jensen is suited to any style of music from Blues, Funk, Country, Rock, and more.  This is a known winner when it comes to Fender Blues Jr replacement speakers.
6. Celestion Creamback G12H-65 (75 watts / 100 dB)
The Celestion Creamback offers some really great voicings for the Blues Junior.  One thing the Celestion Creamback will do is give you a much fuller low-end sound while still maintaining some clarity on the high frequencies.  Guitarists love the Creamback for its articulate note definition and separation.   What this means is, if you are playing chords or lead guitar you'll hear more of each note in a very balanced way.
Celestion Creamback speakers are loaded into a lot of higher-end boutique amplifiers.  The reason they are is because of their note clarity and definition. One of the small limitations of the Creamback is it doesn't have the 3D projection like the Eminence Cannabis Rex or Wizard.  For those looking to smooth things out, the Celestion Creamback is a really nice choice.
Celestion also makes a G12M-65 model that only comes in at 97 dB.  I would stay right away from this version.  This is nowhere near as loud as the Eminence Texas Heat for example.  This speaker is great for recording and it is also loud enough for most club gigs.  Make sure you get the G12H-75.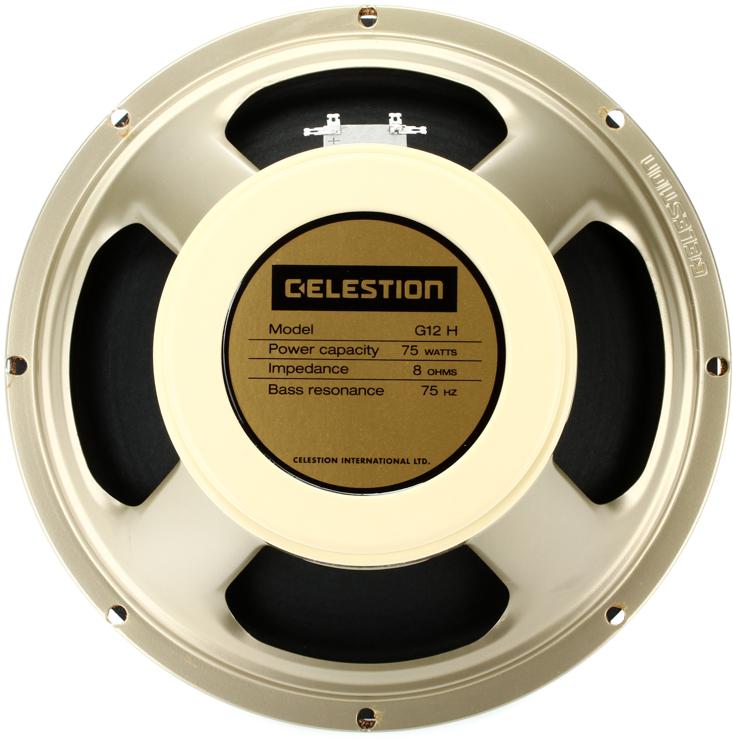 7. Red White & Blues (120 watts / 101 dB)
The Eminence Red White & Blues speaker is something I only recently tested. After having the chance to test it out in a few different amplifiers over the last 12 months and I was blown away by it.  Eminence wasn't kidding when they named this speaker! It is fantastic for blues and great replacement speakers for the Blues Jr!
The Red White and Blues speaker is a perfect fit for any American-style amplifier.  It has a tight low end so it will never get muddy.  Tonally, the character of the mids and highs are very balanced never getting into ice-pick territory.  The Red White and Blues is perfect for folks wanting to play blues, southern rock, and funk.  This has a beautiful feel and push of sound behind you when you play live.  This speaker is a bit like the Texas Heat in some ways without the extended low end and with a tad more high frequencies.  The Red White and Blues will be a blues-players dream!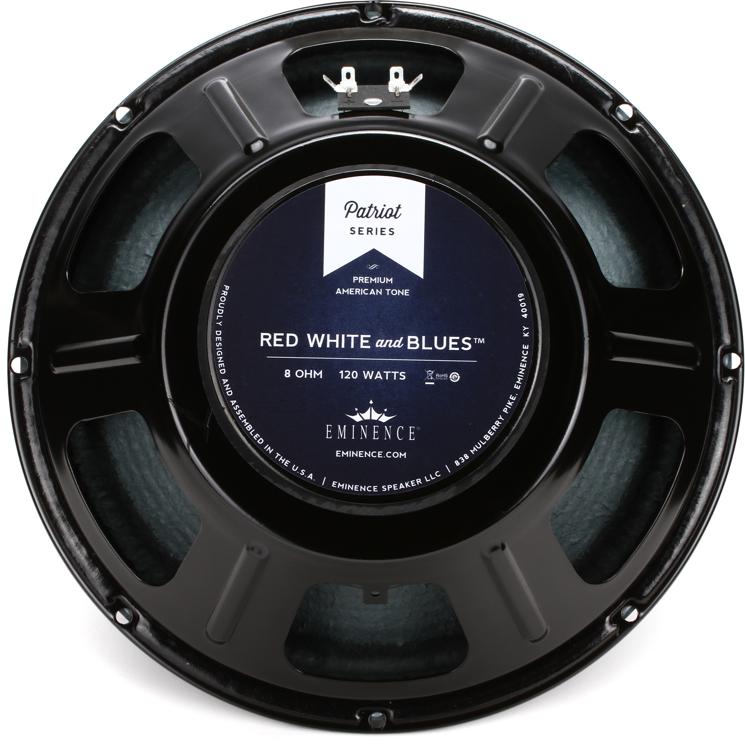 8. Eminence Man O War  (120 watts – 101.6 dB)
This next recommendation is for musicians who might like to use their Blues Jr as a high-gain pedal platform. If you enjoy throwing a high gain distortion in the front end of the amplifier for higher-gain rock tones, this is a great choice.  The Man O War is one of the loudest speakers you can find and will give the Blues Jr way more volume than the stock Fender Eminence speaker.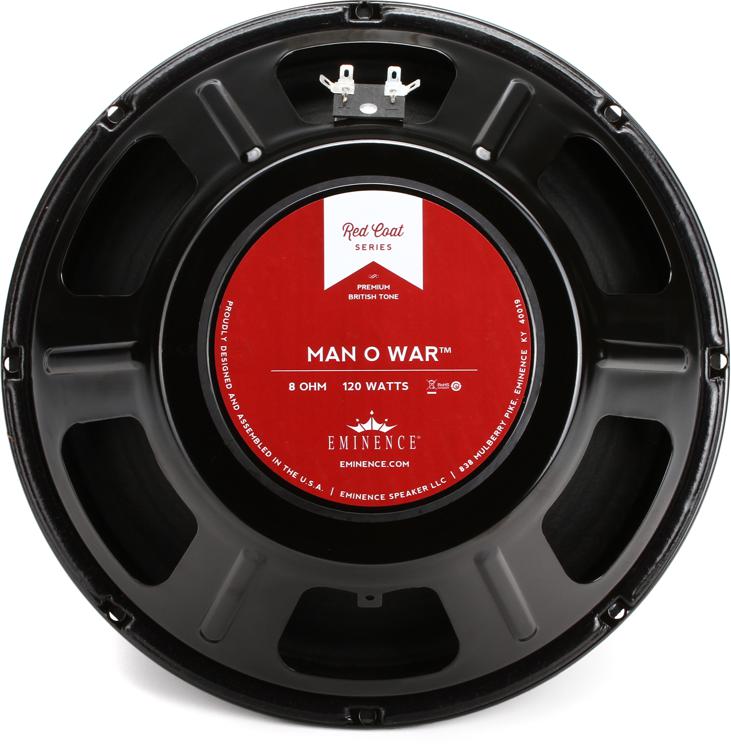 9. The Celestion A-Type Speaker (50 Watts 98 dB)
The Celestion A-Type speaker comes stock in the Fender Blues Jr IV.  For those who own an older Blues Jr with the generic Fender Eminence speaker, this is a huge upgrade.  I am adding this to the list because it's a great match for the Fender Blues Jr amplifier.
The Ceramic magnet really gives this speaker a lot of punch and top-end bark. Rated at 50 watts the Celestion A-Type speaker will also give the Blues Jr a lot of headroom with very little speaker distortion.  The Celestion A-Type speaker is rated at 98dB making it a fairly efficient speaker.  When you compare 98 dB to 102 dB on paper it doesn't sound like there would be much of a volume difference but there is.  The decibel scale is quite different from a percentage scale.  Every 3db+ you add is twice as loud as it was.
After testing the Blues Junior IV that comes pre-loaded with a Celestion A-Type speaker I am very impressed with it tonally.  One thing to note though, this speaker can be considered fairly bright when it comes to the higher frequencies so please keep that in mind.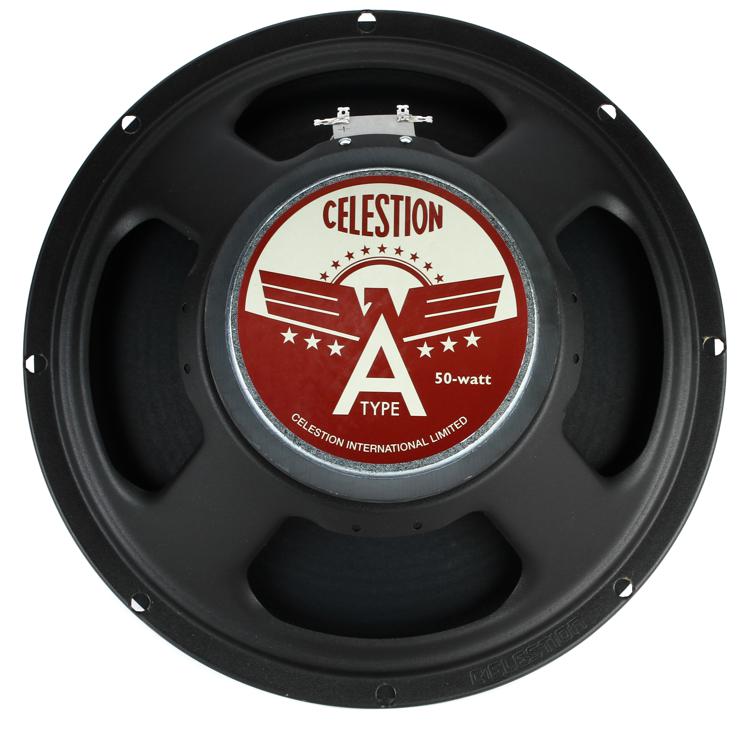 10. The Eminence Tonker (150 watts / 102 dB)
I love my Eminence Tonker speaker and it is super loud! Not only is the Tonker a really loud guitar speaker, but it also sounds great in capturing the British sound. To sum this speaker up tone-wise is as follows.  The low-frequency response is quite tight.  This means you will never get that undefined low-end sound you could get from other speakers.
Another key characteristic of the Tonker is it also has a somewhat bright high-frequency voicing as well.  This high end is very reminiscent of most British-sounding speakers.  One reason it works great in a Blues Junior is the speaker is super-efficient making the amplifier louder and fuller sounding. These speakers work great in any of the EL84 based amplifiers I have heard them in.  Certainly, the Fender Blues Jr is a bit of an anomaly when it comes to the rest of the Fender amplifier range and this list of speakers will work depending on your preferred sound.  If you are into British rock, classic rock, or stinging blues solos, this is a great choice.
The Eminence Tonker also has a very three-dimensional (3D) sound to it that really jumps out of the mix.
How to Install or Change a Replacement Speaker in a Fender Blues Jr
The video below shows how to easily change and install a replacement speaker in a Blues Junior.  The process is the same no matter which model of Fender Blues Jr you own.
Common Fender Blues Jr Replacement Speaker Questions
Question: The Blues Jr is only 15-watts can I put a 50, 75, 100 or 150-watts rated speaker in?
Answer: Yes!
Question:  Will the Fender blues jr push or power a 150-watt speaker?
Answer: Yes, it will have no problems at all.
Question:  What is the stock Fender Blues jr OHM rating?
Answer: 8 Ohms.  Visit my Archive of Speaker Ratings
Question:  What size speaker do I need for a Fender Blues Jr?
Answer: 12″
Question:  What is the minimum speaker wattage I can install?
Answer: 15 watts.  Do not go below this rating or you will damage the amplifier or blow the speaker.
Final Thoughts
I would suggest choosing the replacement speaker that best suits your style, ear, and needs.  If you are more partial to the classic American sound get an Eminence Patriot speaker or a Jensen.  For those who love the classic British tone, you can either go for a Red Coat (red label) Eminence or any number of Celestion speakers. If this guide has been helpful please share the article or tag someone you know in the comments that could use some tone tips.  Each of these replacement speakers will be a massive upgrade over the stock speaker found in the black version of the Fender Blues Jr amplifiers.